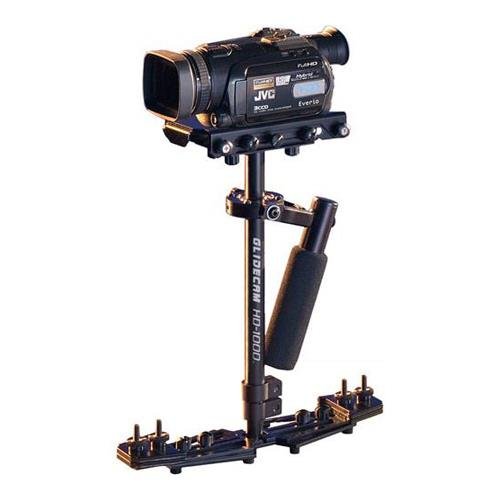 So I just bought Glidecam HD 1000 camera stabilizer, and I must admit that it really makes my previous handheld videos look awful. If you are on the fence about buying this stabilizer, just pull the trigger and add it to your kit, you'll be glad you did it.
Just a few weeks after trying it out and recording several videos for my YouTube channel, the smoothness and quality of the clips can't be matched. I'm still learning how to balance it and move it around fast without altering the video quality.
Here are its specifications
Extendable; 12 inches tall in shortest mode, 16 inches in longest mode
Ships with 8 counterweight plates
Weighs 1.9lbs (without the weight plates)
Weight of 8 weight plates= 1.44 pounds
Multi-hole design camera mounting plate
Base platform features ¼-inch mounting hole for optional monitor attachment
Padded arm
Central support post measures 0.75 inches in diameter
What makes the HD 1000 Stabilizer a good buy?
It's pretty much affordable
If you record videos as a hobby, stabilizers that cost several grand are overkill for you. That was my case too. But I seriously wanted to improve the quality of my videos. So I figured out I had to look for something that would deliver the quality that I needed without breaking my bank. After reading several previous buyers' reviews, I was convinced that the HD 1000 was the guy. Frankly speaking, I'm impressed.
Its construction design is a KILLER!
One thing that you'll notice with this stabilizer is that it's beautifully designed. So if you want a stabilizer for a budding professional video shooting business, this one fits the bill. The HD 1000 stabilizer feels as solid as it looks.
This stabilizer weighs roughly 1.9 pounds without the counterweight plates. It's also compact. As such, you'll find it easy to carry everything in one bag whether you are taking it for your hiking adventures or camping.
There are a few notable differences between the HD 1000 and its immediate predecessor, the HD 1000 pro. First, this model has a precisely and nicely machined base. The counterweights that come with HD 1000 have also been upgraded from simple washers to thoughtfully designed units.
The arm that attaches at the gimbal is also nicely padded. Though the entire configuration can be quite hefty with the camera, external microphones, and counterweights mounted on, this padded arm makes it easy to hold the kit in your hand.
In addition, this arm also allows a broad range of movement. You'll be able to tilt the camera downwards or upwards depending on what you want. This feature helps in adding color to your videos and capturing different types of shots. Mind you, not all stabilizers within this price range offer this convenience.
Telescopic arm
The pole that connects to the top and the bottom weights also has a good width. This makes turning the camera around with your free hand easy and fuss-free. This arm is also telescopic. It can extend to give you a height of up to 16 inches in the longest mode and then collapse to about 12 inches only. The ability to collapse to this height coupled with the sturdy base makes Glidecam HD 1000 a good stabilizer for still videos too.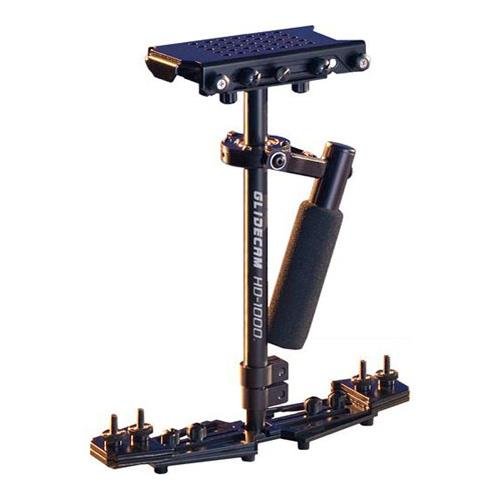 How much weight can Glidecam HD 1000 stabilizer support?
This stabilizer is designed to support utmost 2.5 pounds. I use it with my Rebel T4i and Sigma 18- 50mm lenses. I also have the EF-S 10-22mm that I use interchangeably. So you should be able to use it if your entire accessories don't exceed the 2.5lbs weight limit.
What should you know before using this stabilizer?
There are a few key things about mounting your camera that you should have in mind if you plan to purchase the HD 1000.
First, make sure that you configure the camera exactly how you plan to use it. This means that you need to mount your lenses beforehand. Again, flip out the LCD screen and tilt it to the angle that you'll be shooting at (if your camera offers these options).
Does this matter? Sure. That was the mistake that I made when I was learning how to balance this unit. You see, if you balance the camera and the counterweights before mounting the lenses, you'll have to do it all over again since the lenses will bring an imbalance. Again, flipping out the screen as the last thing will also throw the entire set-up out of balance. Don't make that mistake.
Who should buy the HD 1000 Stabilizer?
In my opinion, Glidecam HD 1000 stabilizer is best suited for budding vloggers and photographers with lightweight camera kits. It's also a good consideration if you're just starting to learn how to balance a camera on the stabilizer.
That being said, the HD 1000 isn't worth going for if you use heavy cameras like the Canon EOS 7D II which weigh around 2 pounds without the lens. By the same vein, consider the weight and the length of your lenses before purchasing this stabilizer.
Major drawbacks
It has a stiff learning curve!
Using this stabilizer- especially if you have never used another one before- isn't a walk in the park. You'll need to play around with the weights and the length of the telescoping arm before you can get things going. Luckily, there are lots of tutorials to help you out.
Its weight capacity
As I have pointed out before, Glidecam HD 1000 is designed to support camera kits with utmost 2.5 pounds. This means that you'll need to purchase another stabilizer, for instance, the HD 2000 or HD 4000 as your kit expands which will automatically make the HD 1000 obsolete.
Adjusting your lenses
If you intend to use this stabilizer with DSLRs with zoom lenses, be ready to rebalance the entire configuration every time you adjust the focal length. This also means that you can't touch the lens without affecting the balance.
It' s heavy
This is yet another downside with the HD 1000. While it's light at around 1.9 pounds without the counterweights on, this stabilizer can be really heavy after mounting your camera. As such, you won't fancy holding it in your hands for more than a few minutes. Fortunately, you have the option of investing in a vest and arm kit if your budget allows.
Conclusion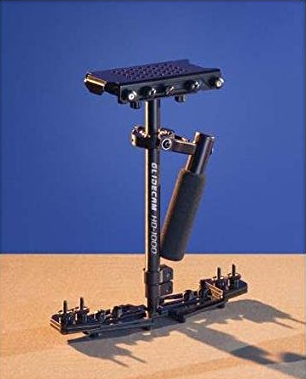 Glidecam HD 1000 will be a huge leap in the right direction if you don't have a stabilizer for your videos yet. This unit is affordable and better machined. While it isn't so easy to use at first, you'll realize significant improvements in the quality of your videos after a few shots.