Why Choose FLYCAM HD 3000 Handheld Video Stabilizer?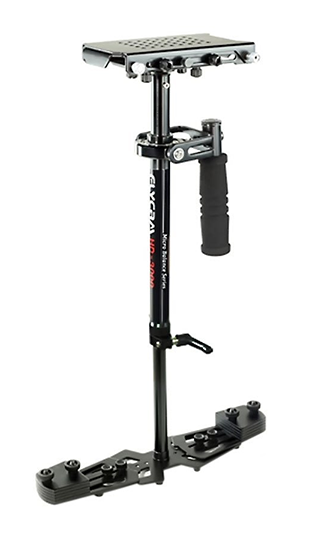 The FLYCAM HD 3000 allows you to move fast and even jog, climb up and down without making shaky videos. It is both lightweight and rugged, which allows you to enjoy unrestricted booming. Additionally, this stabilizer offers ease of use and 360 degree panning while shooting graceful, steady and smooth shots.
Its telescopic structure will allow you to use cameras up to 3.5kg. We are speaking of a high quality stabilizer being made of Hi tensile strength aluminum and with telescopic structure. The bearings supporting the stabilizer allow more precise shooting, while the ability for extension starts from 40 and moves up to 60cm. This may be a great opportunity for you to shoot both high and low mode angles.
The FLYCAM 3000 is your one highly affordable piece of steadicam that can allow you to make some quality shots. One of the biggest advantages of the product is that it is very light wear, which will allow you to shoot videos with no pain in your back.
This particular HD stabilizer allows you to enjoy many different advantages, including:
Fluid stabilized motion
Low angle
Solid stationary
Attaching and removing cameras is now easier than ever! The Quick Release option of this stabilizer allows you to quickly attach and remove the camera. The drop-on mount plate for your camera has 1/4" and 3/8" mounting holes that will accommodate many types of camera bases.
If you wish to adjust the stabilizer, you can use the vertical and horizontal axis. Additionally, the stabilizer has a Camera Mounting Platform that you can use to adjust the balance both horizontally and vertically. Adjusting the top stage side to side and back and forth is an option allowed by the control knobs, while you can use the velcro to avoid scratches to the camera and the plate. The camera's vertical balance is adjusted by using the counterweight discs located on the base platform. The handle of this model is created to allow you to easily and smoothly grip the surface and use it to manipulate the camera both side-to-side and up and down.
However, if you own a camera of 2.2kg and plan on installing head light, wide-angle converter or an external microphone, you better opt for the larger version of this model, such as FLYCAM 5000.
Final Thoughts
The reviews on this product were generally positive and mostly speaking of how good the stabilizer is for such an affordable price. However, there were some notes about the carrying case that usually comes with the stabilizer. According to the reviews, the item could use some improvement because it requires the entire stabilizer to be disassembled every time it is being packed.
Overall, this particular HD handheld stabilizer is a very good investment. It is both affordable and of great quality, but most importantly, it provides its users with high stabilization videos.