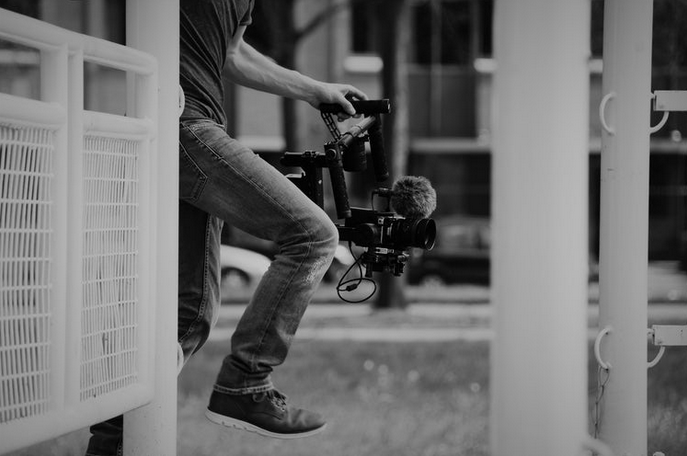 The battle between the best steadicam has been an ever-raging one. As a beginner in cinematography and videography, you are bound to get lost in this era where the names Steadicams, stabilizers, and gimbals are being used interchangeably and in a manner to suggest that they are all the same thing.
In this article, therefore, my focus will be to explain to you the differences between these units. I'll, however, observe them as a hierarchy of terms. I'll also explain what each system does best and where it simply won't work. As a bonus, I have also prepared a buying guide for these models to help you identify the best stabilizer for your camera or iPhone right off the bat.
Wait, why should you trust Beststeadicam.com?
If you are hunting for a stabilizer for your DSLR or GoPro, the first thing that you'll probably do is read several 'best Steadicam reviews' on several sites. While this is a good guideline, you need to be wary of contents written by people, who've not seen, leave alone use a camera stabilizer.
Well, I don't mean to dispute all Steadicam reviews. What I mean is that buying a stabilizer based on reviews written by inexperienced persons could cost you. Let's just agree that almost anyone can write an analysis based on the visible and documented features.
However, it takes an experienced person who has love and passion for cameras and stabilizers to single out units that would work well with a certain camera and not the other.
Worth mentioning is that I created beststeadicam.com out my huge love for cameras, stabilizers, and near-perfect videos. Ever since I put my hands on my first stabilizer, the Roxant Pro, I was sold out.
I have also been on a never-ending mission of looking for the best steadicams around the world and offering a review on some of them for beginners and people who would want to try them out.
Here are our intentions and the possible benefits that you'll get from Beststeadicam.com;
Introduce you to the world of stabilizers
Offer all you need to know about a specific Steadicam; features, best uses, pros, and cons
Guide you on the best Steadicam depending on your projects

Steadicams, Stabilizers, and Gimbals- What are they?
By now, you must have known that all these units are designed around a common principle: they all aim at smoothening your tracking shots. They do this by eliminating all the jarring motions that are present in handheld footages.
You see, if you are looking for professional–looking shots, you'll need to come up with a way of removing all the shakes and wobbles that plague most handheld shots.
We cannot deny the fact that the built-in stabilizers in many of the mid-range digital cameras (including camcorders) play a significant role in giving your projects a more professional feel and appearance. But, do understand that that built-in camera stabilization will never substitute the role of a secondary stabilizing unit- Steadicam, stabilizer, or gimbal.
Basically, these units work by separating the camera from the operator. So, the camera is literally floating in the air though you still retain total control of all the movements. By separating the camera from you, stabilizers prevent any body shocks and jolts from being transferred and recorded in your shots.
The birth of Steadicams
Long before the invention of the Steadicam, Hollywood and other cinema giants heavily relied on a dolly- similar to railroad tracks- to move their heavy cameras closer to, away from, or alongside the subject.
While the dolly offered what the movie directors needed (smooth shots), it was cumbersome, time-consuming, and pretty expensive to complete one project. Using a dolly requires laying down the tracks that the camera will slide on. These steel or aluminum tracks are costly and need an expert hand to lie down.
Again, a dolly requires a huge crew to operate, and the tracks need to be laid down on flat ground to prevent any bounces that may affect the look of the shots.
But the main downfall- and that which the steadicams came to solve- was that of following the subjects downstairs, on busy streets, and on rough terrains.
Why a Steadicam is better than a dolly
The Steadicam will always be the best invention in the movie world. Garrett Brown, the inventor of Steadicam and a Philadelphia native, is the man to take all credit here. The best part about these modern units is that they need only one person to accomplish a project that would have required a 10-man crew to complete.
The only time that you might need a little help is when moving downstairs and backwards, though not always. A Steadicam also allows you to follow the subject over long distances and across crowded rooms with relative ease.
The evolution of Steadicams
Now, do understand that Steadicam is a brand of stabilizers that was invented by Garrett Brown for Motion Picture cameras. Most people, however, use the name Steadicam for anything that offers advanced shooting stabilities even when the units are actually from other competitor brands.
All in all, the Steadicam may be viewed as the 'Mother of all stabilizers and gimbals' since they all borrow a leaf from it regarding performance and operations.
What is a Steadicam? How does it work?
A Steadicam is a complex rig that brings together three major components (a vest, a sled, and an arm) to isolate the camera from the operator. This article on how a Steadicam works is more detailed and might be of great help if you want to learn about Steadicams in details0.
With these models, you place your camera on a platform on the sled. The weight of your camera kit is counterbalanced by the weight of a monitor, battery, and additional weights (when necessary) at the bottom of the sled. A gimbal positioned along the pole keeps the camera steady so that the camera floats in the air effortlessly amidst all your lateral movements.
The pole that holds the camera kit and the counterweight again attach to the operator's vest through the arm. The arm is made up of 2 parallelogram blocks and springs that work as shock absorbers.
The arm complements the gimbal and the counterweight by smoothing any sharp jolt from the body and that which may have an adverse effect on your steady shots.
The weight of the camera, the sled, the counterweights, and the arm is then distributed evenly across the operator's body through the vest. This vest has a series of pads that help in balancing the entire rig without making the operator somewhat uncomfortable.
Should you buy a Steadicam for your projects?
A Steadicam is, hands down, a very powerful tool that will add a lot to any project. Whether or not you should invest on one depends on a few aspects;
First off…
Your budget
The best Steadicams can be darn expensive. The Steadicam Steadimate Professional video stabilizer, for instance, costs close to three grand. You could get several high-end DSLR or mirrorless cameras and lenses with this amount and stick to handheld operations.
Fortunately, the advancement in technology and the entrants of new brands into the market has availed relatively affordable yet professional-looking stabilization systems like the Flycam 5000 which will be fairly priced well below $300.
The primary advantage that you get with an expensive stabilization rig is that you'll be able to support heavier components with a lot of ease. For the record, the Steadicam Steadimate above can support a camera system with up to 30lbs in weight. On the other hand, the cheaper Flycam 5000 supports utmost 11 pounds.
The former model allows you to pull really nice shots with about any camera load fitted with any lens configuration and any other necessary accessories. So, if you have a lucrative videography business and high-profile clients that require nothing but the best, the Steadicam Steadimate might be your best bet here.
From a budget and weight limitation standpoint, we can deduce that high-end Steadicams are better left for professional broadcasting houses like CNN that have a huge budget for expensive gear.
On the other hand, the low-end Steadicams might be ideal for a typical vlogger who wants to deliver high-quality videos without breaking the bank. Mind you, the market has a multitude of these units, and I'll be doing a review of several of them later in this article. So, stay tuned to the end.
Your skills
I'll be upfront with you on this one. Don't buy a Steadicam until you have perfected your balancing skills. A Steadicam is among a few other units on Earth that require lots and lots of patience and time to master.
A friend of mine who works in a camera and stabilizer store tells me that close to 50% of all the stabilizers sold are always taken back to the store after several weeks. Reason? The buyers are impatient video enthusiasts who want to fly down the hallways and streets right off the bat without mastering how to use the rig first. That will never be.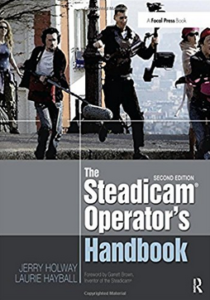 After buying a Steadicam, it pays to either join a class or find a mentor to help you through. When taking my first class on how to use a Steadicam, my trainer suggested The Steadicam's Operator Handbook by Jerry Holway.
This is a highly recommendable well rounded guided that will help you move your camera rig with precision even when on the fly. Remember I am also here and will give my advice on mastering your creative skills.
I highly recommend that you also bookmark this website as your new resource for learning all things regarding steadicams.
Steadicam vs. Stabilizer
All Steadicams are stabilizers, but not all stabilizers qualify to be a 'steadicam' from Garrett Brown's point of view.
In videomaking, Stabilizers are systems that work in the same manner as Steadicams but do not necessarily involve a vest or arm. They are, however, considered more advanced than gimbals (more about these in the next subheading).
As more and more people get a good hold of how steadicams work, more stabilizers that dope the same job of a 2k-Steadicam are now available at a fraction of the price. There are high expectations of cheaper and more advanced units to hit the market in the near future.
Generally, the best camera stabilizers involve a camera mount, a gimbal, and a pole that connects the camera mount to the counterweights on the other end. A good recommendation here would be the Glidecam HD 1000. Find its review here.
Best Stabilizer Buying Guide
A few aspects come into play when purchasing a camera stabilizer. The most important, in my opinion, is the maximum weight limit.
Regardless of the price, you need to ensure that the stabilizer is strong enough to support your camera plus its lenses and any other external accessories.
For instance, the Glidecam HD 1000 above supports a camera system with utmost 2.5 pounds. This means that the stabilizer can only support lightweight camera rigs that do not exceed this weight limit, for example, the T4i with the Sigma 18-50mm lenses.
While the price makes it the best stabilizer for beginners, the biggest snag with these types of gadgets is that your camera kit tends to outgrow them pretty fast. If you are into serious photography and video-making, you'll obviously want to expand your rig by adding an advanced camera or a high-end lens. This will automatically render the Glidecam HD 1000 or any other low-weight-capacity stabilizer obsolete.
If you don't want to invest in a stabilizer that you'll shelf after just a few uses, you might want to spend on something stronger and that which has higher weight capacity. Glidecam also has other options like the HD 2000 which supports up to 6 pounds and the HD 4000 with a maximum weight capacity of up to 10 pounds.
Go for a brand with a solid customer support. Remember that stabilizers are still new in the market. As such, they are bound to land into problems easily especially when tweaking the adjustments. A responsive brand is a guarantee that you'll always have someone to your rescue when stuck.
Steadicam VS Gimbal
Commonly known as a gimbal, this is, perhaps the smallest of all stabilizers. Amazingly, these models have also revolved more than the traditional handheld stabilizers.
You might also hear some people referring to these motorized stabilizers. This is because a gimbal uses three motions to stabilize a camera or a phone; yaw, pitch, and roll.
A gimbal such as the Snoppa Go uses brushless motors and sensors to offer your camera absolute balance. These powered units beat the handheld stabilizers in that their performance is not affected by sways and external forces such as the wind and inertia.
In the same manner, most gimbals offer a relatively lower learning curve compared to a Steadicam or a 'stabilizer.' Don't get me wrong though. You'll need to familiarize yourself with the controls and the different modes available before you can fly with the gimbal.
What features do you look for when buying a gimbal?
Maximum weight capacity
The first thing that you want to verify is whether the gimbal can support your camera plus all the added accessories- lens and microphone- that you'll be using.
Quick-release plate
If you'll be switching from handheld shots to the gimbal, then ensure that the plate allows you to mount and release the camera fast enough.
By the same breath, it's important to consider a gimbal that lets you mount and remove the camera tools-free.
Camera sled
Above all else, confirm that the sled is spacious enough to accommodate your camera's size plus the lens.
At this point, here are my recommendations of the best Steadicams, stabilizers, and gimbals on the market today.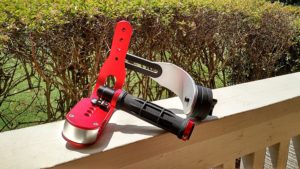 The Official Roxant PRO camera stabilizer review
For those of us looking for the best camera stabilizer below 100 dollars, I give you The Official Roxant Pro. This is, in my opinion, the closest you can get to near-perfect videos without selling your kidney for a quality camera stabilizer.
The Official Roxant Pro beats other stabilizers in its league due to its mix of high performance, optimum comfort, and affordability.
Like any other stabilizer, you won't just pick the Roxant Pro and start having the time of your life instantly. You still require some patience to do it like a pro. But I must admit that it has a significantly smoother learning curve than other stabilizers on the market. So, if you're looking for units that will help you hone your balancing skills, the Roxant might be a good choice.
This stabilizer is made up of relatively lightweight but strong materials that allow prolonged handheld shootings. Its ergonomically designed handle with no-slip grips allows you to hold the camera steadily and without fatiguing easily.
About compatibility, the Roxant Pro can accommodate almost any recording device including all brands of DSLRs, GoPros, and even Smartphones.
Any limitations?
One of the greatest challenges with the Roxant Pro is on the maximum weight capacity. This unit supports utmost 2.1lbs. Anything above that will be pretty hard to keep balanced. It's not a big deal though considering its size.
Again, despite its lightweight design, its single handle means that you'll using only one arm to support the entire rig. You might tire out quickly especially if you are not used to handheld stabilizers.
Neewer Portable FilmMaker stabilizer review
Assuming that you are in need of the best cameras for filmmaking on a budget, you might also need a portable stabilizer to complement where the camera lacks in stability.
The Neewer Filmmaker System offers you a little bit of adaptability compared to the Roxant Pro above thanks to its dual-hand handgrip and a padded shoulder support. This shoulder support really eliminates the fatigue that the Roxant brings. The shoulder mount also allows you to move easily without affecting the stability.
One thing that most videographers like about the Neewer is that it accommodates various types of ¼'' screw-holes cameras including DSLRs and camcorders.
Amazingly, the sled does not only support the camera, but it also has a slider (two rail rods) that allows video zooming without touching the lens.
I also appreciate how adjustable this rig is. It's quite impressive that you can position the camera mount and the handles anywhere for optimum comfort. Again, the Neewer Portable stabilizer assembles and dissembles tool-free.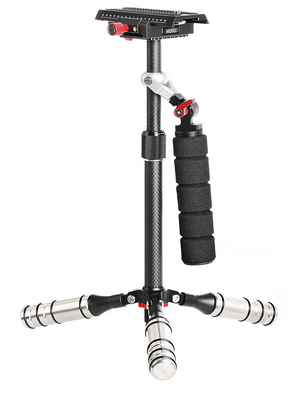 Movo VS7 Adjustable Video Stabilizer Review
Quite similar to my personal favorite the Glidecam HD 1000 but with a few high-end features, the Movo VS7 is a solid option for anyone looking for the best stabilizer below 200 bucks.
Perhaps what makes it a really suitable camera stabilizer for beginners is its famous micro-balancing capability. This stabilizer's camera mount has several fine-tuning knobs that make it super easy to adjust the camera slightly up, down, back, front, and sideways. The numbers and the pointer also make it easy to locate the center of gravity easily.
In fact, most of the buyers claim that learning how to balance and use the Movo VS7 was so easy compared to other models.
Weight compatibility
The Movo VS7 weighs around one pound without the counterbalancing weights and around 2.5lbs with the weight set. It balances camera kits with a maximum weight of up to 6.6 lbs. This capacity makes it a great option for use with most DSLRs and small video cameras.
Adjustable and Lockable grip
This feature isn't common with camera stabilizers, and it's, therefore, worth mentioning here. In my opinion, one thing that makes balancing a stabilizer especially when walking is the free-moving handle. That being said, having a handle that locks into place should be a huge bonus to beginners. Compatible with Steadicams
Another thing that I like with the Movo VS7 is that you can mount it on a vest-arm system and record your movies like a professional.
In fact, if you are on a shoestring budget and you really want to give your business a serious professional look, you could purchase the Flycam Comfort Arm and Vest system (costs below 200 dollars) and use it with an affordable stabilizer like the Movo VS7.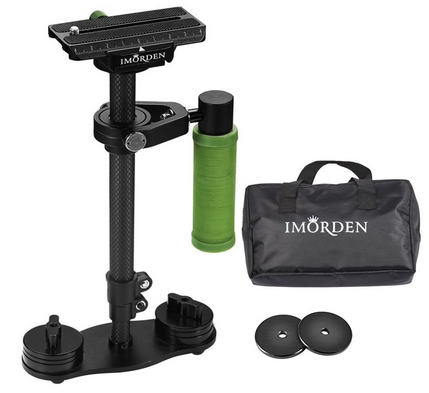 IMODERN Carbon Fiber S-40C Handheld Stabilizer
At almost half the price of the Movo VS7 above, the Imodern Carbon S-40C is also worth checking out if you don't want to spend over a hundred bucks on a stabilizer. Actually, Imodern isn't a brand that always comes up when searching for these units in the gimbal space.
However, the numerous positive reviews that this model has garnered might be enough evidence of it being one of the best affordable Steadicams around. What does it have to offer?
Sound construction
Imodern S-40C weighs around 2.9 pounds. Though this weight may be too much for your wrist if you are a starter, it's still very lightweight compared to others. You'll also get comfortable using it as you get a good hold of it. The S-40C is crafted from carbon fiber that facilitates its lightweight yet sturdy structure.
Weight capacity
In my experience with these units, the price tends to go up with an increase in weight capacity. This stabilizer's low price, therefore, speaks volumes about its weight capacity.
The Imodern S-40SC supports cameras within 0.5lbs and 2.3 pounds. You may argue that this capacity is way too low. However, do know that this model is ideally designed for starters who have low-weight shooting accessories in mind.
Adjustable height and top plate
The Imodern S-40C has two aspects that make balancing your camera relatively easy: a flexible shaft and a quick setup top plate.
These 2 features are important since they offer a relatively easier way of finding the balance between your camera kit and the counterweights.
For instance, the frame that adjusts from 10.3'' to 15.7'' allows fast precision alignment. Again, the marked top plate allows you to make fine adjustments as it moves both front and back and also from side to side. However, you'll need to learn how to play with the two before you can balance your camera seamlessly.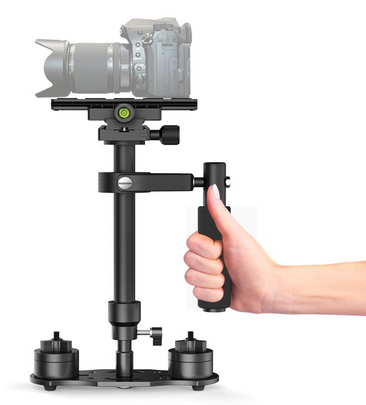 Cisno Handheld Stabilizer- ideal for DSLRs and Camcorders
Shooting professional-looking footages shouldn't always cost you the earth as the Cisno Handheld Stabilizer depicts. This is among a few other Steadicams that cost below 50 dollars but still offer quality floating videos that match those of models that are double or triple expensive.
The Cisno stabilizer accommodates camcorders, DSLRs, and Mirrorless cameras. This stabilizer has a thoughtfully long top plate that is designed to hold even the bulkiest cameras together with their add-ons (external microphone and lens) provided the entire kit remains within the weight limits.
A good thing is that the Cisno Stabilizer works well with cameras from almost any brand including Nikon, Canon, Panasonic, and Sony. This means that the stabilizer will be of use even as your kit is graced by cameras from other models.
Compact and portable
Measuring around 12.4'' x 9.5'' x 4.7'', there's no point that you won't be able to carry this stabilizer with you wherever you want. This is made even easier since it does not require any tool to assemble.
The Cisno might be considerably heavier than the Imodern S-40C above. But it also holds a heavier camera kit of up to 3 pounds. To tackle the problem of weight, this model is fitted with a 17-mm handle with a smooth sponge. The essence here is to offer you a handle that you can hold for long without fatiguing easily.
Balancing your camera kit
Like it's always the case with other Steadicams, finding a perfect balance for your camera on this stabilizer won't be a straightforward thing especially as a starter. But things should start getting easier and more fun as you learn how to use the X and Y adjustment knobs plus the assorted weights to keep your footages stable.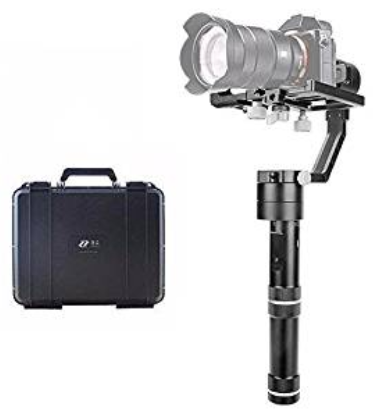 Zhiyun Crane V2 DSLR Stabilizer
Motorized handheld stabilizers are taking the art of shooting smooth videos to the next level. These are the most compact camera stabilizers and should, therefore, top the wish list of any videographer looking for something with a minimal footprint.
Tool-less assembly and mounting
In my opinion, the main reason why most people prefer gimbals is that of their ease of assembly and use.
The Zhiyun Crane V2, for instance, comes fully assembled and does not require disassembling not unless you just want to do it for fun. Again, your camera mounts and dismounts on the plate in a breeze since you don't need any tools for that too. This means that you can carry the gimbal in your backpack and flush it out for use whenever need be.
Easy balancing
If there's one reason why I would highly recommend powered gimbals over their mechanical competitors will be their ease of use.
Though there is still something to be learned, electric gimbals are easy to use since most of the work is done by three brushless motors. What happens is that when you press the ON button on the handle, all motors come to life and hold the camera stable.
Needless to mention, these models eliminate more vibrations and shakes than the mechanical units.
Another reason why you'd want to go with the Zhiyun Crane V2 stabilizer is that it can be used on-board. Its three motors keep the camera stable on all axes even as you move. The biggest advantage here is that the gimbal does not experience any difficulties due to change in speed, gravity, and g-force.
Powering
The Zhiyun Crane V2 uses 2-26500 batteries to power its motors. What I like about these batteries is that they last incredibly long per charge. These cells offer you anywhere between 6 and 12 hours of shooting time.
Compatibility
Despite its compact size, the Zhiyun V2 has a considerably higher weight capacity than most stabilizers in our collection. This model is designed to support both DSLR and Mirrorless camera kits that do not exceed 3.96 pounds.
Has a Camera Control Interface
The major problem that plagues most mechanical stabilizers is that you can't control certain essentials such as shutter and focus without touching the camera.
The Crane V2 tackles this problem by offering two most coveted buttons that allow you to control shutter and focus on the stabilizer's body.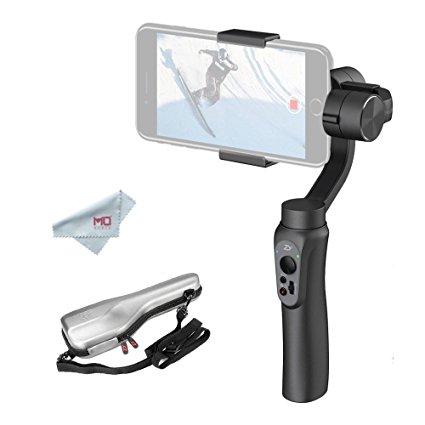 Zhiyun Smooth-Q Handheld Smartphone Stabilizer
The advent of Smartphones has gone through a tremendous improvement over the last one decade. If you carry one of the latest generation phones including the iPhone 7/6/6 plus, Nexus, and several other high-end devices from Samsung among other brands, there are high chances that you can record videos at 4K resolutions.
However, despite these phone's high processing speeds, and clear glasses and lenses, you might want to invest in a phone stabilizer to eliminate most of the unstableness that is common with bare-hand footages.
One of our best recommendations here is the Zhiyun Smooth-Q. In my opinion, this phone stabilizer meets the threshold in terms of materials, construction design, ergonomics, and price. Let's look closely.
Comes in a protective case
Camera and Smartphone stabilizers are super-sensitive gadgets that you don't want to just throw in your bag. Unfortunately, most gimbals don't come with a protective case. This poses a great challenge for the traveling videographer.
That's the reason why the protective case that the Zhiyun Smooth-Q comes in requires a special mention here. This is a mini violin-like case with a zip and precisely cut foam that protects the delicate device from shocks and regular bumps in your backpack.
Build quality
The build quality of this gimbal has a really solid feel. The only slight issue that I personally have against it is the plastic handle.
Although it does not feel like it would break easily, it would have been a good thing if it borrowed the metallic handle from Zhiyun Crane. That aside, the other parts feel solid, and rugged thanks to the metallic casing used all around.
The Smooth-Q also ticks a lot of boxes in terms of portability. Other than its solid build, this gimbal is also amazingly lightweight at 15.5oz. This means that the stabilizer won't be adding a lot of weight to your luggage which is a really good thing.
Compatibility and Support
This stabilizer is specifically designed for iPhones, Samsung Galaxy series and other Smartphones that are 4.7-6 inches big and with a weight of up to 220g/0.48lbs.
Since this is an electronic gimbal, the setup process is relatively easy and can be done without faff. The camera mount is spring-loaded and can handle your phone both horizontally and vertically. Worth mentioning, however, is that the spring can make it a tad harder to secure the phone with one hand.
Performance and controls
The Zhiyun Smooth-Q features 3-axis stabilization. The motors come to life after pressing the ON button and automatically adjust your Smartphone's position and angle. By the same breath, you can control the motors either manually or automatically with the Zhiyun App.
The control panel is relatively straightforward and easy to understand. The W/T toggle, however, might be confusing to most users. It simply means zoom in and out.
The most notable feature here is the touch-sensitive joystick which allows you to pan, rotate, and tilt your phone, of course, depending on the mode that you are shooting at.
Similar to other gimbals, the Smooth-Q features 3 operation modes. Switching between these modes is through a single button.
Again, long pressing the mode button switches the gimbal to sleep button and long pressing it again brings it back up. Doing all these could be pretty intimidating at first but will become clear after several uses.
What about powering?
The Smooth-Q uses 2 built-in 18650 batteries. Although the manufacturer promises 12-hours operation time, most of our reviewers report 9-11 hours which is also not a bad thing.  The gimbal is charged through a USB (provided). You can also charge your phone directly from the gimbal for non-stop video footages.
There is a free App too…
I would highly recommend you to download the ZY Play app here if you really want to enjoy using the Zhiyun Smooth C. The app is free and opens up a whole new world in terms of comprehensive camera controls.
The app offers several intelligent functions such as long exposure, time lapse, and slow motion among others. The app also has lots of information about your phone including the shooting mode, the battery capacity, the degree of roll, pitch, and pan, and the current shooting mode. You can also use it to calibrate the gimbal when need be.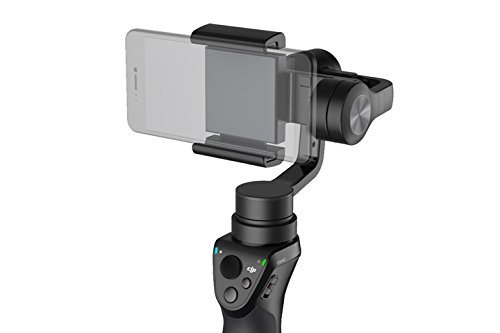 Dji Osmo Stabilized Camera Gimbal
The Zhiyun Smooth-Q above is a decent entry-level phone stabilizer. You might want to check it out if you are on a tight budget. However, I feel that the Smooth-Q lacks a few pretty important features that would have made it a really great deal at its price.
In that case, if you are looking for a professional-grade camera gimbal for your Smartphone shots, I would pretty much suggest that you go for DJI's latest release; the DJI Osmo Mobile.
Slightly pricier but for a reason
Admittedly, the DJI Osmo Mobile is a few bucks pricier than the Smooth-Q. But that's because we are talking about quicker joystick adjustment responses and superb face/ object tracking capabilities. These 2 are among a few other reasons why I find the Zhiyun Smooth-Q slightly unreliable.
Designed with Phantom 4's ActiveTrack drone technology
ActiveTrack technology is one of the biggest leaps that DJI has made in drone technology. This function enables the camera to follow your subject throughout the shot using intelligent vision and sensors.
To identify your subject from a group, you only need to draw a box around it. That's not rocket science, but it's super cool.
3 motors for perfect stabilization
Similar to its competitors, the DJI Smartphone stabilizer uses 3 motorized gimbals to offer you silky-smooth shots. However, the DJI Mobile has several features to itself that make it stand out in a way, first, the ActiveTrack technology.
The ability and convenience of keeping your subjects within the frame whether they are running, driving, or riding is just irresistible and could bring magic to your shots.
Secondly, the Osmo mobile is compatible with DJI Go mobile app. When you connect the gimbal to your phone through Bluetooth, you can then use the app to control the camera plus several other functions of the stabilizer itself.
In fact, you can use the DJI Go app to stream live to YouTube and Facebook Live. In my opinion, this feature alone makes the DJI Osmo one of the best gimbals for vloggers.
Motion Timelapse- Do you know what this means?
Another standout feature of the Osmo mobile is its Motion Timelapse. But what does that even mean? You ask.
Simply put, motion time-lapse moves the camera in slow motion as it captures a series of up to 9 stills which are then stitched together to come up with a breathtaking high-resolution panorama.
But what's even more appealing is that the camera can tilt and pan throughout the scenes. This allows you to get the panoramas as perfect as you would like them.
Customizable Joystick
The Osmo Mobile has a load of competing features including the customizable joystick. This is a physical control unit that allows you to pan and tilt the camera. The best part about it is that you can customize the functions of the joystick to suit your needs.
There are separate recording and shutter release buttons. Moreover, you can manually rotate the camera using your hands to the right position.
Others features in a nutshell
5 hours battery operation time. You can also use an external battery extender for prolonged shooting time
Ergonomically designed handle for prolonged shots
Weighs 7 ounces only but can support 2.3-3.3 inch Smartphones
YI Gimbal Stabilizer and Action Camera Bundle
Are you looking forward to purchasing an action camera and a stabilizing gimbal at the same time? If so, Yi Technology has a bundle that you might be interested in. Enter the Yi Action Camera and the Yi Action Cam Stabilizer combo.
It's the first in this series
Understandably, this stabilizer is Yi Technology's first item. They are not new to action cameras though. Yi is better known for its good quality yet amazingly affordable action cameras designed for beginners and videographers on a budget.
If you are looking for an action camera with near-GoPro quality but you are really strapped for cash, Yi has several options for you including the Xiaoyi Action Camera which is highly recommendable and the Yi Lite among other action cameras.
What camera do you get with the bundle?
This package ships with the Yi 4K Action Camera. Don't let the seemingly low price of this pack fool you. The Yi 4K camera might be one of the most advanced gadgets of its kind at this price point. True to its name, this camera records high quality 4K videos at 30 fps, 1080p/120fps, and 720p/240fps.
That's not all. For your photo sessions, the Yi 4K Camera boasts a 1550 wide lens with f2.8 aperture and can take stills at a staggering 12MP.
This camera also has a 2.19'' touch-sensitive LCD screen with HD resolutions of up to 640 x 360 to make previewing easy. In addition, the camera has a battery that keeps it powered for up to 2 hours.
Yi Action Gimbal Stabilizer Review
Being the first gimbal in Yi's series, it's not hard to see how dedicated this brand was in pushing a gadget that will compete favorably with GoPro. Although there are a few glitches that they need to correct (we'll talk about them soon), the Yi Action Gimbal has everything that a normal person might be looking for in an action camera gimbal.
Tiny yet very powerful
Speaking from a portability perspective, the Yi measures 95mm x 77mm x 75mm (L x W x D) and weighs less than half a pound. These dimensions coupled with the travel case that ships with the package make it easy for you to pack the gimbal plus the camera for all your adventures.
About performance, the Yi Action camera Gimbal offers 3 operation modes; pan, tilt, pan and tilt mode. Worth mentioning here is that you choose between all these modes from a single button.
You can view this as either a pro or con depending on what you like. In my opinion, the ease of changing the shooting mode from a single button is super convenient since you won't be fiddling with lots of controls.
On the other hand, this single button operation might be quite tricky for someone who is used to a stabilizer with dedicated buttons for all the modes. Luckily, there's a LED indicator that lights up in different colors depending on the mode. This might make things clear once you have a good hang of the gimbal.
The Yi Gimbal does not come with a tripod. Luckily, it features a universal 1/4-inch thread attachment that lets you mount it to almost any compatible tripod or monopod. In that case, I would highly recommend that you check out the Andoer Q666C Carbon Fiber tripod among other options in our other list of the best budget travel tripods.
What are its downsides?
The major con with the Yi Camera Gimbal is that it's designed purposely for the Yi 4K Action Cam. What this means is that you won't be able to use any other action camera, for instance, the Hero4 which is a look-alike of the Yi 4k- with this gimbal.
Again, if you are looking for a stabilizer with remote control capability or wireless connectivity, the Yi camera stabilizer is not yours.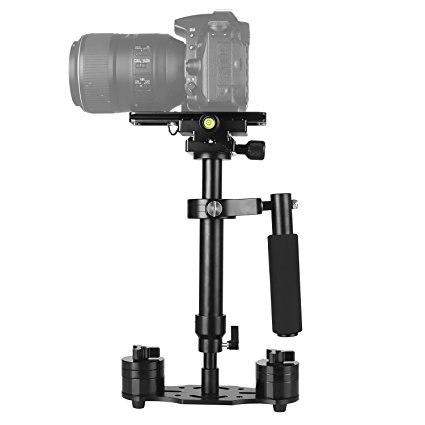 Pangshi S40 Video Steadycam
Pangshi is not a name that always pops up when speaking about the best DSLR gimbal stabilizer. However, their S40 Video Steadycam proves that, at times, good things come from the least expected sources.
Now, I don't want to make it seem like a perfect match for the Yelangu s60 (find its full review here). However, in my opinion, this is, hands down, the best dslr stabilizer under $100 on the market today.
What is the Pangshi S40? Design and Features
The Pangshi S40 is a stylish, sleek, and modern camera stabilizer precisely designed for videographers and photographers on a budget production.
Aesthetically, this stabilizer looks good thanks to its aluminum alloy frame and smooth black powder finish. The frame has a pleasant touch, and the soft foam on the handle not only adds to its appeal but also minimizes fatigue.
From a portability standpoint, the Pangshi S40 is one of the most compact stabilizers among its similar competitors. This gadget measures approximately 15.7 inches/40cm. On this note, the S40 adjusts from 11.8 inches to 15.7 inches. This means that whether you decide to slide it in your bag or hold it in your hands, lagging the steadycam around won't be an issue.
But what's amazing is that it still gets the job done like any other bulky stabilizer double its size. I would suggest that you check out what most of its previous buyers say regarding its size on Amazon's customer reviews section. You'll be impressed.
Do you prefer taller stabilizers? The Pangshi is also available in a taller version, the S60. True to its name, this model measures 60cm/ 24''and might be a good bet for videographers with a tall stature.
Compatibility and Ease of Use
The Pangshi S40 is designed for Sony, Nikon, and Canon DSLR cameras with up to 3.3lbs. Amazingly, you can also mount your point and shoot, camcorder, and even iPhone (phone require a special bracket though).
What this means is that the Pangshi will be of great use regardless of the type of camera that you are using provided it's within the weight limit. This makes it one of the best stabilizers for beginners who want to save more for advanced units.
About balancing your camera on the mount, the Pangshi S40 behaves like many other stabilizers out there. It's not bread and butter, especially for beginners.
Fortunately, most of its previous users report that it's relatively easier to balance compared to other models that we've reviewed before including the Glidecam HD1000 camera stabilizer (here is its full review).
What I like here is that unlike the Glidecam above, the S40 has additional adjustment options on its weight plate at the bottom. Besides using the weights to find the balance, you can now move them either forward or backward along the plate.
This is a new feature that the Glidecam lacks and which makes balancing the camera pretty easy. In addition to that, the mounting plate also has 2 adjusting knobs that allow you to move the camera slightly to the front or back and sideways. All these features work together to smoothen the learning curve.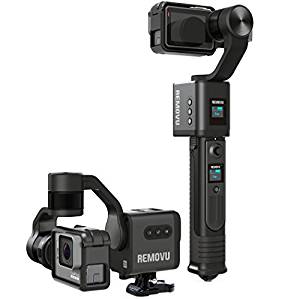 Removu S1 Gimbal Stabilizer
It's very likely that you've heard about the Removu S1 Gimbal Stabilizer, haven't you? This is an ass-kicking gimbal that has taken the world of camera steadicams by storm since it debuted in 2016.
The presence of the Removu S1 and the Karma Grip has caused a controversy among critiques with regard to the best stabilizer for GoPro cameras.
Although the head-to-head footage clearly puts the Karma Grip ahead of its direct competitor, the Removu S1 Gimbal has a rich, innovative set of features that make it quite recommendable.
Mount it anywhere
As a direct competitor of the Karma Grip and given that this unit is designed purposely for the GoPro cameras, the ease of mounting it anywhere is one feature that makes it a great deal.
This means that you can mount it to your biking or skiing helmet, backpack, or use the chest harness to mount it on your body. You could also mount it on your bike's handlebar although I don't recommend it due to how shaky it can be for your GoPro.
Design and Set up
Setting up the S1 is easy straight out of the box. What puts it a few steps ahead of the Karma Grip is its ability to support several GoPro cameras including the Hero Session, Hero3, Hero 3+, Hero4, Hero5 Black, Hero Session, and the Hero6.
In my opinion, this modular design might also allow you to mount emerging GoPro action cameras in future- a really good thing here.
Notably, the package comes with 2 housing frames for the Hero cams and 1 mount for the Hero5 and Hero Sessions. This makes it ideal for videographers who have several GoPro cameras. The package also has other necessary accessories including;
3 batteries plus a charging cradle
1 remote control
Usb cable
Wrist strap
A rainproof carrying case
Although I would not call the Removu S1 'bombproof' in terms of build quality, it really has a good solid feel in your hands, and it's not unnecessarily heavy. The S1 has a plastic and metallic construction and seems quite robust for the hikes.
Removu also claims that it is both rainproof and waterproof. However, I would recommend that you let it stay in its rainproof carrying case in such occasions given its price.
Features and Performance
The S1 has about every control detail that you'd require for your shots on the handle. This includes the tilt and pan functions that Karma Grip lacks.
Another cool feature about this stabilizer is that you can detach the hand grip. This allows you to mount the head mount to a pole then use the wireless joystick remote to control the gimbal.
About performance, the Removu S1 boasts 3 operational modes;
Pan- this mode locks the tilt and roll functions and allow you to sweep around the scene horizontally
Follow- here, the roll is fixed, but the camera can pan from horizontally and also tilt up and down
Lock- the camera maintains one position in this mode with no panning, tilting and roll movements
Powering
The gimbal is powered by a single battery housed in the head unit, and it's removable. Worth pointing out, the package brings you 3 batteries.
This means that unlike using the Karma Grip, there's no point you'll ever stop shooting due to low battery. On the other hand, the remote control is powered by a built-in battery.
Overall, the Removu S1 is an impressive kit offering near-professional footages shots straight off the box. This thing is lightweight, easily portable, and also straightforward to use. It also does a good job in stabilizing your footages.
Although it does not meet the quality of GoPro's Karma, it still meets the quality that any normal videographer might be looking for in a good quality shot. Again, knowing that everything that you need for your video session is included in the package is a really good thing.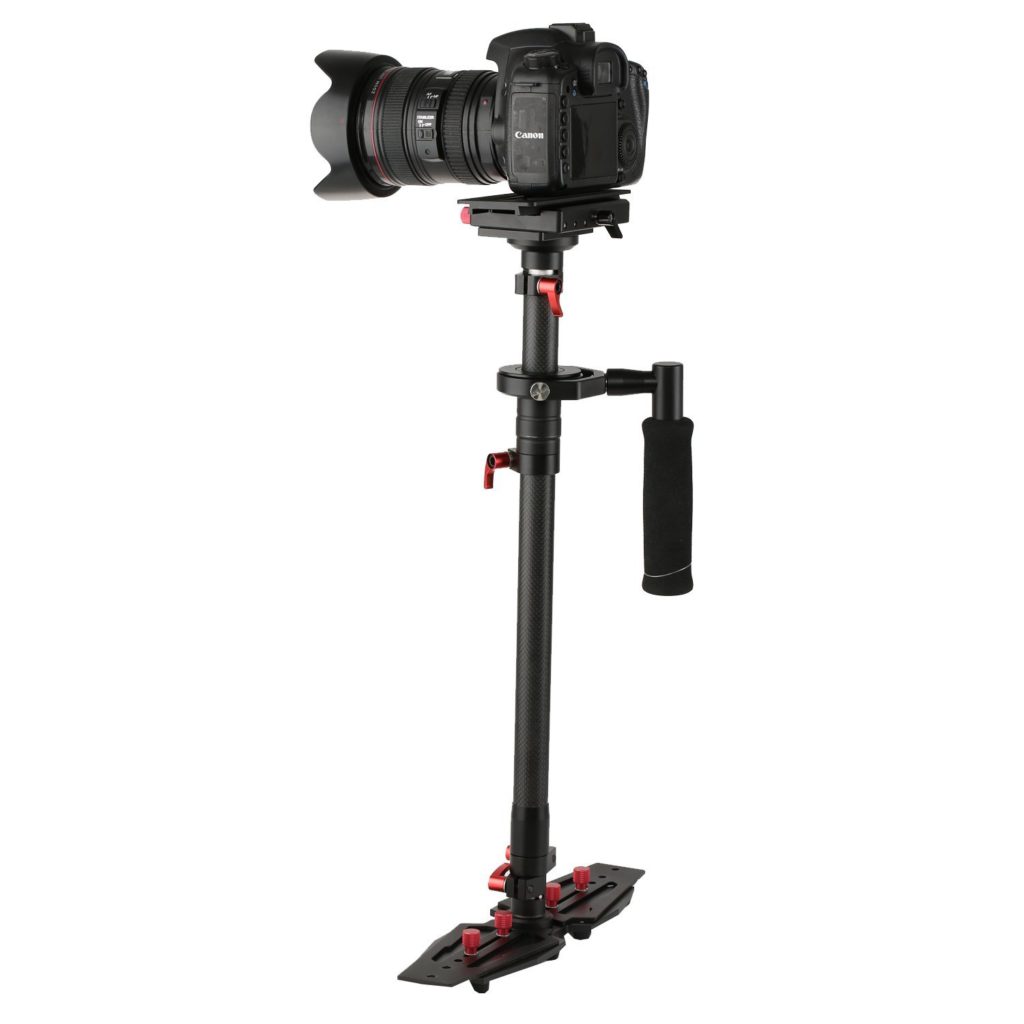 Dazzne HD-2000 Professional Camera Stabilizer
The Dazzne HD-2000 wraps quick and precise balancing, flexibility, and style in a thoughtfully crafted stabilizer that get things done without being overly pricey.
Though this handheld unit does not promise some out-this-world shots, it has remarkable performance in minimizing most of the camera shakes. Once you get a good hang of it, you might be able to boom, pan, tilt, and even run with very minimal camera shakes and instability.
Don't simply take my word for it though. Here is its review.
Design and Set up
From a design point of view, the Dazzne HD-2000 is pretty similar to the Flycam HD3000 that I had reviewed some time earlier here.
The only notable differences, however, are that the Flycam HD3000 extends to a taller height and also supports more weight than the Dazzne HD-2000. However, if Dazzne rolls out a HD-3000, we expect it to be a perfect match to the Flycam HD3000.
Similar to other stabilizers, the Dazzne HD-2000 features a 3-axis gimbal plus a foam cushioned handle. As you might have learnt from my previous article on how a Steadicam works, the essence of the gimbal is to isolate your hand from the stabilizer thereby minimizing most of the unwanted motions from your body.
It also allows you to move the camera up and down and from side to side without interfering with its stability.
The HD-2000 features a carbon fiber shaft. This construction material is preferred to aluminum alloy since it (carbon fiber) has incredible stiffness at a much lower density. Precisely, the HD-2000 weighs 7.7 pounds but has a payload of up to 6.6 pounds.
Regarding size, the HD-2000 has a pole that adjusts from approximately 20.9'' to 30.9''. The thing here is to allow you to shoot at different height and angles with much ease.
The assembly part of it is completely tool-free and might, therefore, save you a lot of production hours down the road.
Compatibility
The payload says it all. The Dazzne supports most camera kits that don't exceed its 6.6-pound limit. The good news here is that most camera manufacturers are inclined towards pushing lightweight cameras designed for the travel photographers.
The HD-2000 is designed to accommodate all sorts of cameras (DSLR, camcorders, SLR, and DVs) from different brands that have ¼-inch or 3/8-inch thread. It's, therefore, very likely that this camera stabilizer dslr will be compatible with most of your camera configurations.
In my opinion, this is also one of the best steadicams for beginners who want something advanced but that which won't cost the earth. What I like about its high weight capacity is that it will allow you to expand your camera kit without the need of investing in another stabilizer soon.
Is it easy to balance?
Truth be said, no mechanical stabilizer has ever been easy to balance in the first attempt. However, I really like that similar to the Pangshi S40, the Dazzne HD-2000 also has a bidirectional base plate and fine adjustment details that makes balancing the camera setup somewhat easy.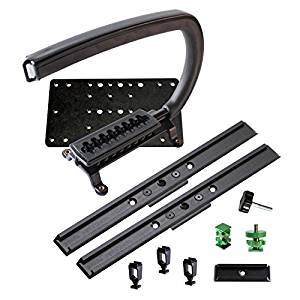 Cam Caddie Scorpion EX Stabilizer Kit
Last month, I was asked whether I would recommend the beholder ds1 handheld stabilizer for professional projects.
My answer was simple and straightforward. NO. In my opinion, the Beholder ds 1 is an overpriced tool with a great concept from a design viewpoint, but very inconsistent and, therefore, very unreliable.
Rather than invest so much money on an item that you won't use (unless you are a very lucky and esteemed dslr stabilizer diy), I would highly suggest that you go with the Cam Caddie Scorpion Ex Stabilizer Kit instead.
This assembly is pretty affordable, versatile, and highly functional for budding as well as professional photographers.
Here is what it brings to the table in details.
Versatility at its best
The Cam Caddie Scorpion Ex Handheld stabilizer is one of the most versatile camera stabilizers that I have come across.
The thing with this model is that it can support almost any type of recording device that you may think of taking with you: Camcorders, DSLRs, GoPro action cameras, and even Smartphones.
But what's more appealing is that despite its simple design, the Cam Caddie Ex allows you to mount almost any type of external accessory that would boost the quality of your footages including flashes, monitors, LED lights, XLR input boxes, and lavaliere receivers among other things.
Multiple Support Options
I also like that the Cam Caddie Scorpion Ex offers you lots of options regarding support. To begin with, this unit has an ergonomically designed handle that is crafted from a low-weight composite.
It also has a uniquely designed polymer grip that aims at offering you a stable hold of the kit for easy maneuvering with a single hand.
If you feel more comfortable with 2-handed shooting, you are free to mount your DSLR cam perpendicular to the top bar which leaves you with the curved side of the stabilizer and the top handle for 2-handed operations.
For those who prefer shoulder-mounted shooting, you can attach a cheese plate (provided) to this stabilizer's feet. With the cheese plate in place, simply go ahead and mount the Scorpion Ex Shoulder Support (sold separately) which will go a long way in dampening most of the vibrations. It also allows you to shoot for prolonged periods without fatiguing easily.
The cheese plate also allows you to attach the whole assembly to a tripod. This will not only give your projects a professional touch, but it might also make it quite enjoyable.
Here are its major pros
Works well with most cameras including DSLRs, camcorders, point, and shoot, action cameras
Offers easy transition from photography to videography
Easy to balance
Offers several mounting options
Very lightweight and compact (could be so great as a chase cam)
Supports lots of add-on accessories
It's lightweight and compact yet sturdy enough for the rough terrains
And The Downside?
Despite its awesomeness, the Cam Caddie may not offer the stability that other motorized stabilizers offer at its price. But this is probably because it does not rely on a gimbal for its operations. It heavily relies on your ability to maintain a really good balance. So, despite its ease of use, you still need to perfect your game in stability front.
Conclusion
In modern videography, there's no excuse for low-quality wobbling videos. High-quality and extremely stable shots are a must inasmuch as you want to succeed in this arena.
The best Steadicam or camera stabilizer is the one that follows you anywhere you go and one that supports your recording kit with relative ease. A Steadicam that won't support your camera or is not portable when you badly need it is simply not worth it.
On the same note, having the best Steadicam in your camera kit is one thing, but pulling out smooth, professional-looking shots is another thing. I like telling my readers that not even the best Steadicam in the world will save you if your balancing skills are wanting. So, as you scour the web for the best camera stabilizers, remember to utilize the content on this website to help you learn how to use a Steadicam or stabilizer as well.