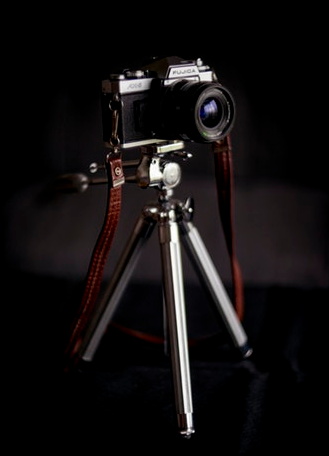 The best budget travel tripod isn't any other 3-legged 'camera stabilizing platform' that collapses down and slides inside your camera bag. There's more to that.
In my opinion, a travel tripod is one that you never have to think twice about carrying or leaving in the hotel room during a vacation.
What is a tripod?
This is a piece of photography equipment with three legs (others have one or four though) and a head onto which you mount your camera or mobile phone.
And a travel tripod?
As the name depicts, this is a model designed primarily for use on-the-road. Some of the best budget tripods for travel are way lighter than a Chihuahua and might not add any weight to your luggage.
Do I need a tripod?
If you are a photographer, there are high chances that you'll always find some good use for a travel tripod. They work in the same way as the best stabilizers by minimizing shakes.
Reasons why you might want to add a tripod to your photography arsenal
Your camera captures excellent photos in low light situations through reduced shutter speeds and high ISO speeds
It allows you to take great shots of yourself with greater creativity
Mounting your camera on a tripod slows things down thus enabling you to capture composed photos
It lets you shoot HDR and panoramic shots with precision and the same framing as you need them
Oh, and they are good for videos too! Are you a travel vlogger in need of stunning videos? Don't just position your YouTube camera on your studio desk. Add some professionalism to your thing by adding a travel tripod to your kit.
Best Budget Travel Tripod Buying Guide
Like any other photography accessory, purchasing a travel tripod isn't always easy. There are two risks involved in case you fell for the wrong model;
You might never get to use it (wasted money)
You could destroy your camera and high-end lenses in case the kit collapsed
When buying a travel tripod, consider;
Its weight and weight capacity
In my opinion, an ideal tripod should weigh utmost 4lbs. Be keen when checking out the weight since most of them are sold minus the head. So, remember to factor in the weight of the head.
Again, ensure that the tripod is strong and stable enough to support your camera setup (camera + lenses) plus the weight that you may add to the kit when resting your hands on the camera.
Size
Here, I mean its folded height and how high it can be when extended. It's important to go for a unit that folds into a compact size for travel purposes but also extends high enough to allow you to use the camera without bending to uncomfortable angles.
Which are the budget tripods for a travel photographer?
K&f Concept TM2534T Camera Tripod

Best tripod for heavy camera setups?
In many instances, compact camera tripods are designed for lightweight camera rigs. K and F concept TM2534T, however, changes the rules of the game by offering you a unit that can support up to 22 pounds of camera setup weight at a mid-range price point.
While I wouldn't advise you to take these figures literally and load a 15-pound kit on it, the TM2534T stands out in any load-bearing competition.
Lightweight and Compact
The K and F performs exemplary not only in terms of weight capacity but also on the portability front. This tripod has a folded size of 19.29 inches and weighs 4.38 lbs only with the head. These measurements mean that you can slide the tripod into your camera bag and carry everything easily.
Comes with a ball head
The best part with the TM2534T camera tripod is that it ships with a ball head in place. However simple this may sound, it eliminates the inconvenience of having to wait a few days longer for a head to be shipped separately.
Versatile camera activity Extreme shooting possibilities
Another thing that I like about this model is that unlike most low-end units, it does not cap your creativity. The metallic ball head, for instance, rotates 360 degrees allowing you to capture stunning panoramic shots.
The center column that supports the head can also be used either horizontally or vertically. In its vertical position, this column allows low shooting angles thereby bringing additional shooting options.
Other features include;
Folds automatically
Max height of 66.53''
Automatic folding with a magnesium-aluminum alloy lock
Spiral type locking knob for faster operations
Center column acts as a monopod too
Vanguard VEO 265AB Travel Tripod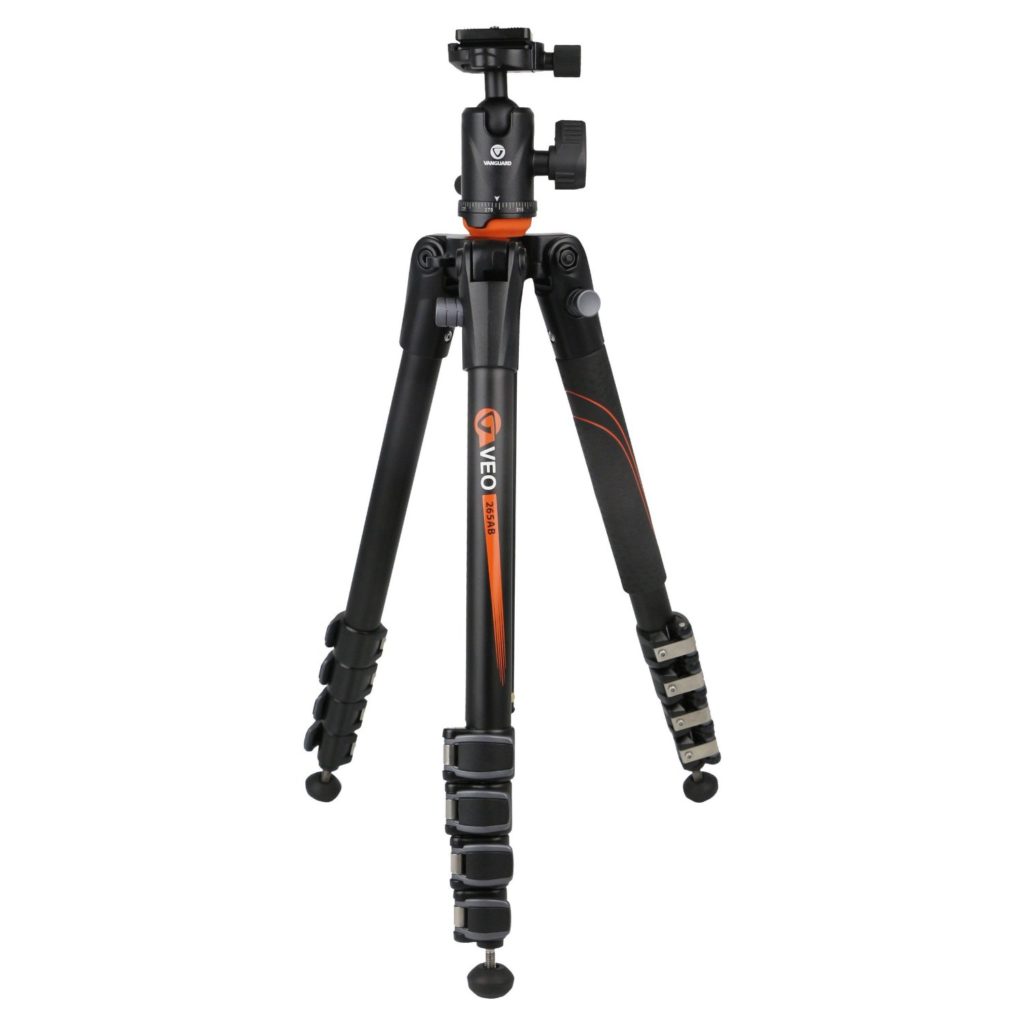 Vanguard is a name to reckon with if you are in need of affordable travel tripods. This manufacturer has several units on its VEO line that require a hard look including the 265AB.
It's super stylish
If you are planning a trip to Europe, you'll obviously want a stylish model to complement your high-end photography gear. This tripod's black theme with orange and grayish hues not only gives it a cool design but also adds some degree of seriousness to your kit.
High loading performance
With the ability to support up to 17.6 pounds of camera weight, the VEO 265AB might be an ideal option if you are looking for the best travel tripod for DSLRs. This loading capacity also means that your telephoto lenses are safe on it.
Sturdy legs with incredible stability
This Vanguard travel tripod features extra strong 5-section 26-mm legs. What's striking here is that the legs are actually tension–adjustable and, therefore, quite sturdy.
But Wait There's More!
These legs also convert from rubber to spiked. This makes it easy to use the tripod on different surfaces comfortably.
Head with quick release plate
This tripod adds more value for your bucks with its head that can support cameras from almost any brand; Sony, Nikon, Panasonic, and Canon among others. Better enough, the head also features a quick release plate that allows you to mount your camera and take your photos at a moment's notice.
Other features
Max height 59.1 in
Min height 7.3 in
Weight 3.7 lbs
Zomei Camera Tripod
Incredible durability
As a photographer on a budget, it's only wise that you spend your money on durable accessories that won't break down on you when least expected. The Zomei is crafted from aluminum and magnesium alloy. This material makes it not only lightweight but also quite strong and stiff (thanks to the aluminum) for hikes and camps.
Best tripod for tall photographers
With an extended height of up to 75.6 inches, the Zomei portable camera tripod renders itself nicely as the best bet for tall photographers who have trouble using low-height models.
It's not meant for tall users only though. This tripod has a folded height of 18.9 inches. Again, you can always find the best height for your photography in between these limits. This means that this tripod can be used by anyone which is a really good thing for group travels.
Macro-photography made possible
This tripod comes with a fluid-like camera head with a quick-release plate that accommodates different types of cameras from various brands. This head's ability to rotate 360 degrees plus the hexagon-shaped column that makes 0-180 degrees allow you to make special wide-angle shots with relative ease.
By the same breath, the Zomei camera tripod has aluminum alloy legs that bend 25, 50, and 80 degrees for extremely low angle photography
Other Features
Weight 4.4lbs
Extended height 75.6 inches
Folded height 18.9 inches
Horizontal and vertical photography possible
Choice of 4 colors
Neewer Carbon Fiber Tripod Monopod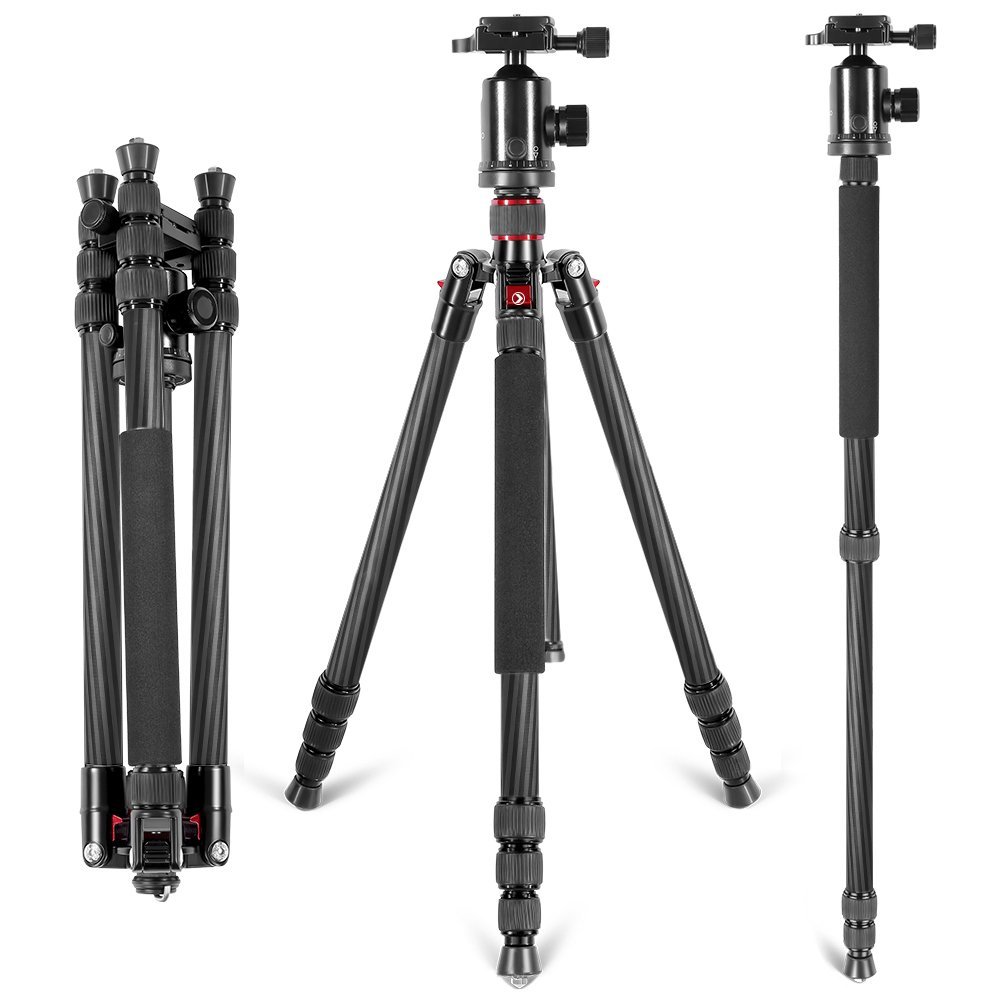 Affordable but not CHEAP
Neewer is known for its affordable Steadicams and gimbals.  So, when I came across this tripod, I thought it might be a good option for photographers who don't want to bleed their wallets on a stabilizing gadget.
It's made of Carbon Fiber
There's a good reason why I emphasize on its construction material. Most of the units in this travel tripods reviews are made of magnesium and aluminum alloy.
While they are quite recommendable especially for their price, aluminum alloy is accused of reverberating vibrations especially through the legs which could affect the quality of your photos.
That's why Carbon Fiber is always highly regarded and common in most high-end tripods. This is because it has a high strength-to-weight ratio which is quite impressive for a photographer on the move.
I would like to mention here that this is among the cheapest and most reliable Carbon Fiber tripod available on the market today.
How does it perform anyway?
26.5 pounds loading capacity!
This Neewer Carbon Fiber beats the K and F Concept regarding weight capacity regardless of being 1.5x cheaper.
And there's no risk whatsoever!
To ensure the stability and safety of your camera kit, this tripod comes with non–slip feet. Its center column also has a hook to support, let's say, a sandbag for increased stability.
Universal ball head design
Despite its low price, this tripod comes ready to use with a universal head that will take about any of your cameras. This universal head coupled with the high weight capacity means that even your future cameras might be supported by this tripod with good care.
ZOMEi Z818 Hiking Tripod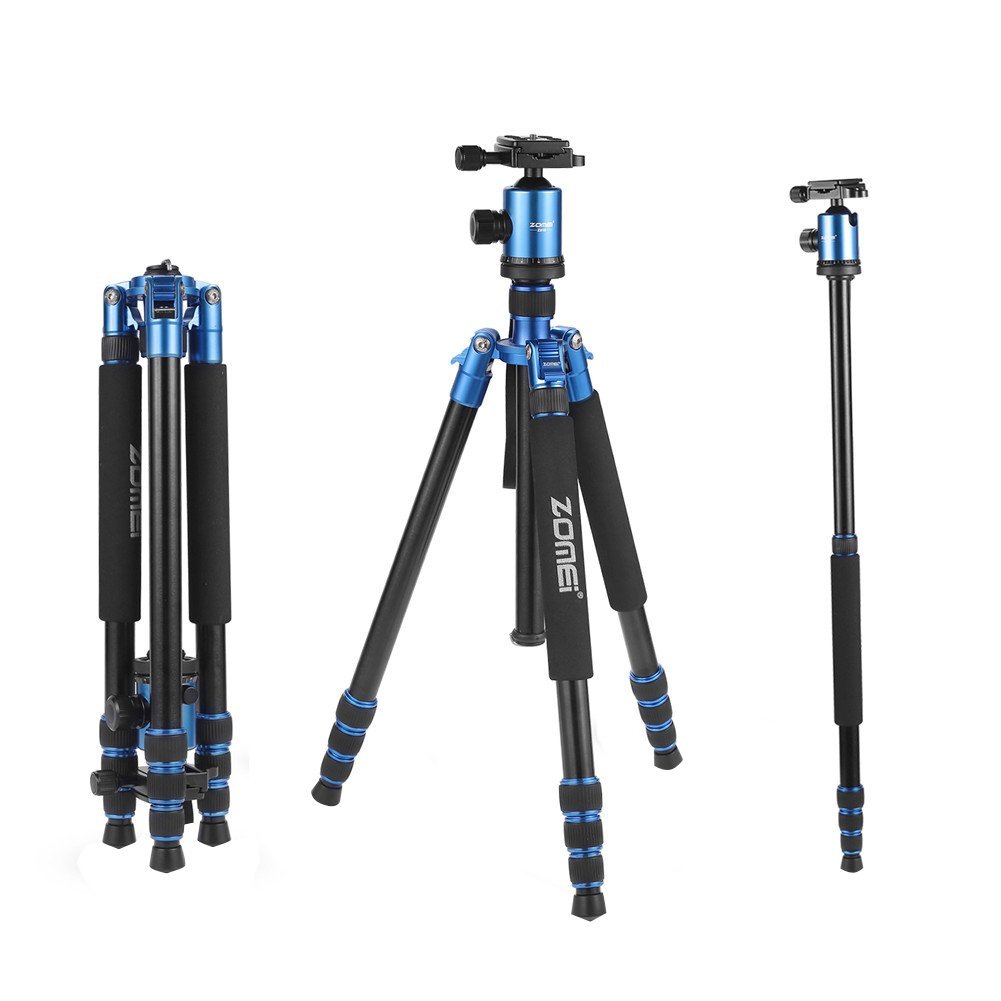 Zomei is at it again, this time with a more affordable unit but with about all the features that you might be looking for in a tripod.
Among other things that previous users praise the Z818 for is its incredible ease of use. This is a complete support system designed for use with different types of cameras including point and shoot and camcorders.
Designed with hikers in mind
The Zomei Z818 is among a few other models made purposely for the outdoors. This tripod has a height range of between 18 inches and 65 inches. This is made possible by the 4-section legs that you can glide in and out to identify the perfect height for different locations on the hills.
Adjustable center column
Like other tripods on this list, the Z818 also allows you to detach the center column and screw it to one of the legs and come up with a monopod. Though a monopod will never substitute a tripod in all dark situations, its easy and quick setups and compact design mean that you can use it in situations where the entire tripod won't go.
Other features
You could invert the center column to hold the camera from below the tripod for lower-angle shots
Weight: 3.7lbs
Twist leg lock
Minimum height 22''
Maximum height 65''
Panning range 360 degrees
Andoer Q666C Carbon Fiber Tripod,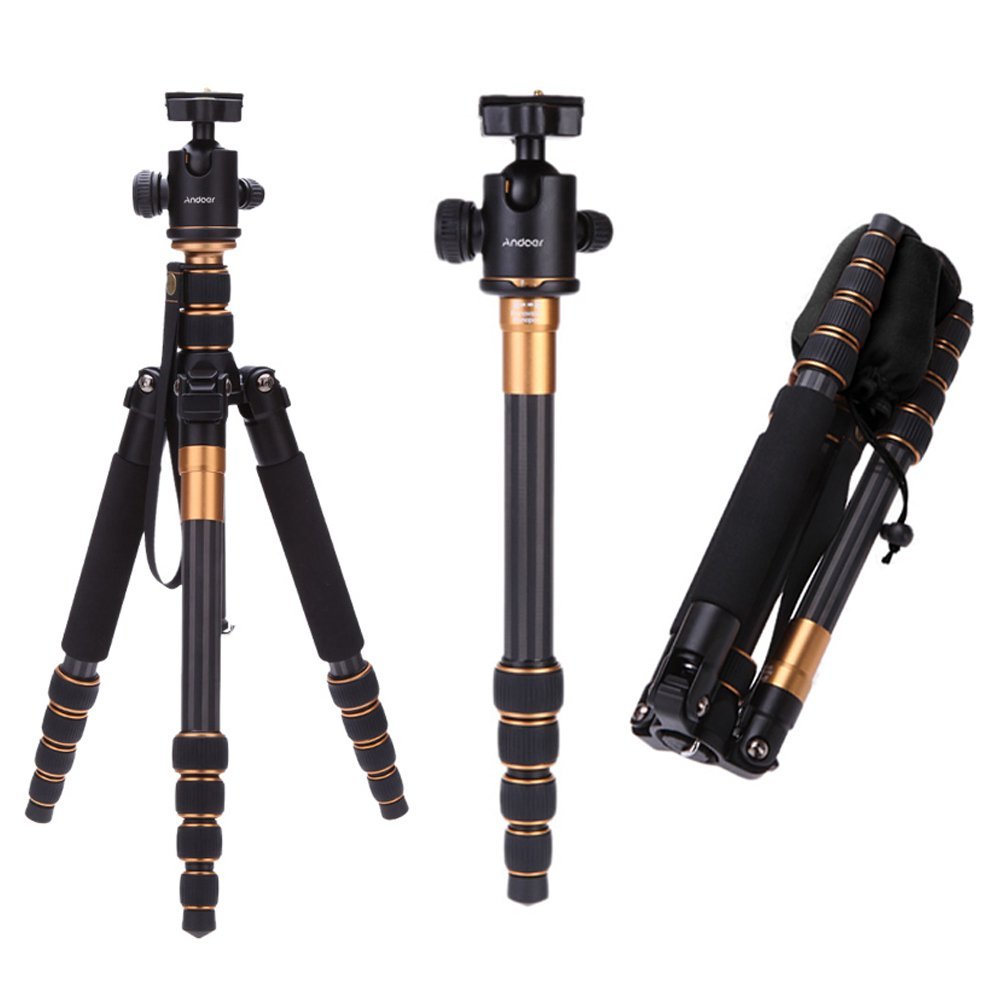 If I were to offer an option for the lightest yet reliable budget travel tripod, the Andoer Q666C would be my first option.
Weighing 2.9 pounds only and with the ability to fold to 13.7 inches, the Q666C  is the lightest tripod in this list. Needless to mention, its lightweight design makes it the most portable tripod and possibly an emergency solution for a photographer who doesn't want to lag around heavy equipment.
Don't despite it for its lightweight design though. The Andoer Q666C is made with the most coveted carbon fiber which is respected for its anti-corrosion and wear–resistance capabilities.
It's also among the strongest tripods here with a stated weight capacity of 33lbs. This high weight capacity makes it a suitable choice for SLR cameras mounted with the heaviest lenses.
What will you like about this light travel tripod?
Has a quick release plate– this ensures that you mount your camera as quickly as you dismount it. Importantly, this plate has a rubber mat to protect your camera from scratches and a secure clip to keep it safe.
Has 3 adjustment knobs– this tripod's head also has 3 adjustment knobs that complement its 360-degree panning ability to make extreme angle and macro-photography possible.
Other features
Has dual spirit level
5-section column legs
Disassembles into a monopod
Final word on the best budget travel tripod
While there are other high-end travel tripods with numerous bells and whistles on the market like the arca-swiss release system, I always recommend starting out with a cheaper model because;
First, even the cheapest models like the Neewer are strong enough to support most of your heavy camera kits.
Second, with proper care, these mid-range tripods could last you several years. This means that even if you changed your mind to another type of photography that does not necessitate a tripod, the unit would not be holding much of your money. Again, they offer you the much-needed knowledge of how a tripod works and, therefore, prepare you for advanced models.