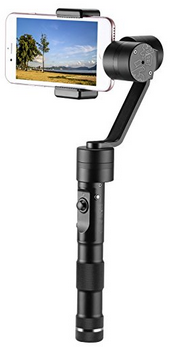 Bottom line, upfront: In my opinion, the Zhiyun Z1 Smooth C stabilizer is a solid option if you are serious about creating videos with your iPhone and any other phone with excellent resolutions. It has a rugged build (all metallic) and has smooth operations that replicate professional videos shot with a dolly. But the best part is that it offers all this goodness without breaking your bank.
If you already own a 1080p or 4k-enabled phone, like the iPhone 6 or Samsung Galaxy J7, chances are that it gives you pretty lovely videos. Besides the much-needed resolutions, these phones are ingrained with incredible video stabilization features that make them more reliable than most camcorders. In fact, this is the reason why I recommend videographers on a budget to start off with any of these phones, as they save for a mid-range digital camera, rather than spend on a camcorder. (See that article here).
The stabilization features in iPhones try to correct most of the jumps and jitters that may render your shots way inferior, especially if you are shooting for YouTube and other platforms.
But I'll not sit here and lie to you that your phone is a surefire video-recording beast. Your handheld Smartphone-shot footages will still record a good deal of jarring motions and shakes especially when running and moving over rough terrains.
So, unless you are really good at holding your phone still in space, even when running (which I highly doubt), you might want to invest in a gimbal. In this case, my recommendation would doubtlessly be the Zhiyun Z1 Smooth C.
Why the Zhiyun Z1 Smooth C phone stabilizer?

This is a 3-axis motorized mount that is pretty aggressive in regard to stabilizing your phone and eliminating most of the jitters. I find its price, around $250, fair given its performance and ruggedness. Its motorized design also renders it nicely as a good stabilizer for beginners due to its smooth learning curve.
Structure and Design
The Zhiyun Z1 is receiving lots of plaudits due to its amazingly reassuring build. This mount has been crafted from a solid aluminum alloy that gives it a sturdy feel even in the hands of an amateur. Well, you still need to take good care of it and protect it from unnecessary bangs and drops. But it feels as if light knocks here and there won't be an issue.
But what's even more appealing is its lightweight design despite its metallic construction. Gimbals are generally known to be lighter than their immediate rivals: camera stabilizers, famously known as steadicams. (Want to know how a steadicam works? This article has all you need)
However, there still exist several gimbals that are overly heavy to make prolonged holding almost impossible. But that is not the case with the Zhiyun Z1 Smooth C.
This manufacturer seems to have zeroed in on comfort by further offering you a handle that you'll comfortably hold without fatiguing easily. The handle is nicely textured and is of the right width so that you can easily clench it with confidence in your sweaty hands without issues.
A heavy-duty clamp that never lets go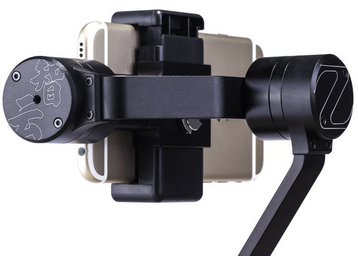 The only plastic material on this phone stabilizer is the spring-loaded Smartphone clamp. This might be considered a washout (to some extent) considering that other stabilizers within this price range utilize a metallic clamp. A good example here is the Apple's Feiyu Tech G4 which is regarded as a high-end version of the Smooth C.
That isn't the end of the world with the Zhiyun Z1, though. Despite its plastic construction, this clamp still holds your phone firmly in place without falling out. On the same note, I don't expect you to test this clamp's ruggedness by dropping it or banging your doors with it. If you have a regime of taking good care of your items, this plastic material should be a non-issue.
What I like about this clamp is the spring system that makes mounting your phone pretty easy. It extends out vertically to allow your phone to slide in and can be used with large phones of up to 7 inches in width.
The biggest phone I have used with it is an iPhone 6 plus, and I can affirm that it holds it nicely while supporting any pans or tilting movements. When using heavy phones (for instance, the iPhone 6 and 7), you'll need to attach an additional counterweight to one of the motors to ensure stability.
Will the clamp scratch your phone? NO. Though not a new feature with these gadgets, I appreciate that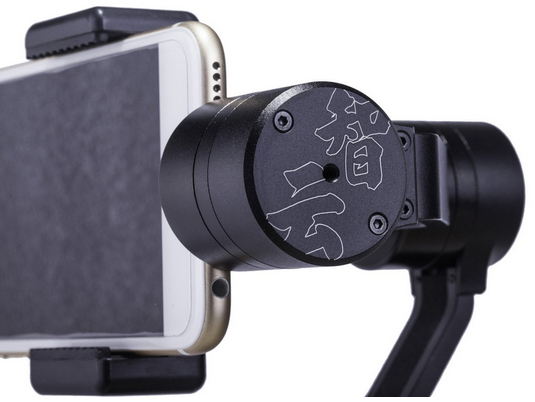 Zhiyun took it to itself to include some rubber textured boots that eliminate the risk of scratching your phone.
The good news is that you can also mount your phone with its protective cover on. So, if you really fear to scratch your brand new phone, this should give you some peace of mind.
Another common question that most video aficionados bring up is whether the Smooth C can support a GoPro. I feel that this could be possible with a few tweaks. However, from a professional standpoint, the Zhiyun Z1 seems to have been designed purposely for the iPhone 5, 6, 6+, and 7 among other phones of these sizes from other brands. So, for a GoPro, I'd recommend you to go for any of the stabilizers in this list of the best GoPro Stabilizers.
Setting it up
The Zhiyun Z1 is an electric gimbal. What this means is that its stabilization system relies on power to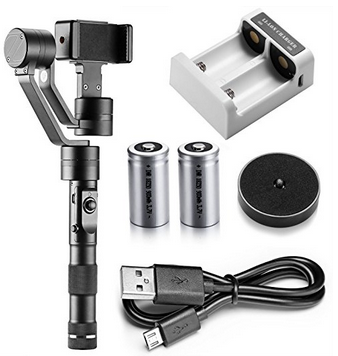 allow handheld shooting with minimal camera shakes and vibrations. The main advantage that you are getting with this electronic gimbal is that of being able to keep your iPhone level and stable on all axes, unlike mechanical gimbals that offer balance on one or two axes only.
Similar to other electronic gimbals, the Smooth C does not suffer from quick changes of speed and gravity. Its powerful processors also make it a go-to stabilizer for on-board footages.
The Smooth C utilizes two 900mAh 18350 rechargeable lithium-ion batteries that ships with the package. Unlike in other models, these batteries recharge from a separate charging unit that draws power from an AC outlet or Computer port via a USB cable.
This external charging unit has a blue light that alerts you when the batteries are fully charged. When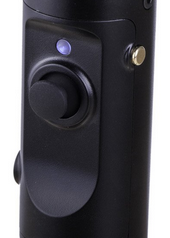 fully charged, the2 batteries may offer you 4-5 operating hours which is quite incredible.
The handle of the gimbal also acts as the holding tube for the 2 batteries. The cap at the bottom screws and unscrews from the handle to allow you to slide in the batteries.
The ON/OFF button of this gimbal is positioned at the bottommost part of this cap, which is more of a con than a pro in my opinion (more about this later).
Operating the Zhiyun Z1 Smooth C
Now, I've already told you that the entire unit relies on power for its operations. So you'll need to recharge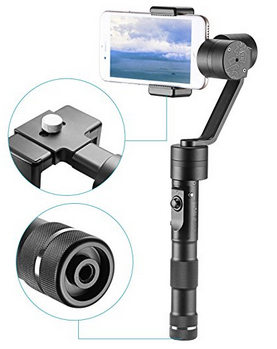 the batteries first and slide them into their cage.
The next step involves securing your phone into the clamps. Note that powering the gimbal comes last. It also pays to ensure that you are holding the gimbal in the air before powering.
The reason for this is because, once you press the power button, the rig unfolds and the motors turn simultaneously to hold the iPhone horizontally. This automatic movement brings the risk of smashing the screen on either on your tops or one of the edges of the motors.
The same thing also happens when you press the power button again to switch the mount off. The motors flop limply due to lack of power. You also risk smashing the screen on the edges of the motors if you are not careful.
As a solution to this, Zhiyun offers a foam camera protection sticker that you need to stick to the pan motor axis. Unfortunately, this foam does not offer much relief. So, I would advise you to always power off the unit while pointing it downwards.
Just within your thumbs reach is a joystick that you use to change the modes. The pitch and the roll functions are also operated from here. The motors are super responsive, I have to say this. So, whether you are pitching up and down or tilting the phone becomes easy and flawless.
There's also another blue LED on the handle that blinks several times to indicate the battery level.
Stability and Calibration
Motorized phone and camera mounts require regular calibration to offer topnotch stability. The good news with the Smooth C is that it comes ready to use right out of the box. However, there is another micro-USB port on the handle that allows you to connect the gimbal to your computer (Mac or PC) for calibration. You'll have to download the software and the necessary drivers to do this.
Bottom line
From my experience with the Smooth C, I find it a really good bargain for anyone on a budget. I would highly recommend it to you if you want to refine your game in mobile phone video recording. Albeit not being the perfect stabilizer on the planet, this mount takes you really close to dolly-like or drone footages without soaking your budget.
This stabilizer is solidly built, yet lightweight. The best part is that Zhiyun continues to update its firmware to make it even more fun to use the mount.
Pros
Solid construction, lightweight design
Supports Smartphones of different sizes
Great battery life of up to 5 hours
Smooth learning curve
Allows calibration with the available software updates
Offers different shooting modes
Smooth pitch and roll adjustments
Cons
The position of the power switch at the bottommost part of the cap brings the risk of switching the unit ON accidentally during transportation. This could easily damage the motors and the clamp.
For heavier phones, you'll need to use an additional counterweight unit. Unfortunately, Smooth C does not ship with a carrying case. So it's easy to lose this counterweight. It also brings some clearance issues.
It is not waterproof. This renders the Zhiyun Z1 Smooth C useless for kayaking and other water sports that may involve lots of splashes.