The best camera stabilizer for DSLR cameras does one thing: adding oomph to your videos and stills. Blurry and annoyingly shaky videos just won't cut it in the modern world, not unless you want to watch them yourself.
Your YouTube channel audience or clients want truly stable video footages without vibrations and unwanted yaw and pitch, whether you are shooting from a moving vehicle or boat.
But this can be somehow tricky especially in these days where most of the best cameras for YouTube shoot in HD definition.
Admittedly, most camera manufacturers are working hard to make the concept of built-in Image Stabilization (IS) a reality. These systems aim at reducing blurs emanating from minute hand-shakes and other environmental factors. Unfortunately, they are yet to counteract the movement blurs caused by intense camera movement.
So, if you are like Casey Neistat and Colin Furze, who believe that every shot matters, then investing in a camera stabilizer is something that you'll want to take seriously.
Let's narrow your search with our recommendations of the best DSLR camera stabilizers below.
Best Camera Stabilizer for DSLR Cameras
In this article, we'll be looking at the best dlsr camera stabilizers that cost over $100. If you want something that costs less than that, then peruse our other list of the best DSLR stabilizer under 100.
Zhiyun Crane 2 gimbal Review- Best DSLR stabilizer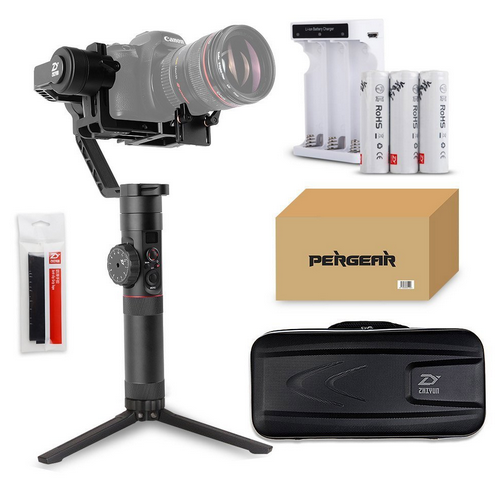 The Zhiyun Crane 2 is the newest kid on the block having debuted early November last year. This gimbal stabilizer succeeds the Zhiyun crane v2. As you'll soon find out, the Crane 2 brings a little more to the table than the v2 which technically explains its high price tag. Not that the V2 isn't a good performer.
In fact, we would highly recommend you to check it out if you are in need of the best dslr camera stabilizer under 500.
But if you want a model that will remain useful throughout its life, consider the Crane 2. Here is why.
Impressively high payload
I bet the main reason why professional videographers would fall for the Crane 2 is its high payload. Compared to the V2, this gimbal is noticeably heftier. It has a larger mounting platform with more headspace, longer arms, and a thicker and more assuring handle.
As Leo Wong, the Director for Zhiyun Products explains, the Crane 2 utilizes the 6th Generation Instune Algorithm system. He also states that the Crane 2 has 50% more motor torque than the V2.
All these features work together to offer you a gimbal that can support any DSLR camera weighing between 1.1lbs and 7lbs.
What does this mean to a beginner? 
For a videographer who is just starting out, this gimbal's versatile weight capacity means that it'll always be of use as your camera kit expands. You see, the problem with cheap low-weight capability dslr camera stabilizers such as the Glidecam HD1000 (find its review here) is that they tend to be outgrown pretty fast as you add heavier cameras and lenses to your kit.
The Crane 2, however, promises to be of great use as you move from a budget dslr camera like the Canon EOS Rebel T6 to heavier pieces of technology such as the Nikon D5.
Has a quick release plate
Tripods, stabilizers, and DSLR cameras go together. If your camera isn't on your stabilizer, the chances are that it will be on your tripod. As such, it's a big deal that the Crane 2's mounting platform is fitted with a standard quick release plate.
The good news is that this mounting platform is compatible with the renowned Manfrotto QR systems. This compatibility means you won't have to re-balance the gimbal during the transfers.
Unbeatable battery life and stabilization performance
The Zhiyun Crane 2 offers a whole 18 hours of continuous video shooting with a single charge. In my opinion, this feature alone makes the Crane 2 the best DSLR camera stabilizer on the market today. For the record, the world-renowned DJI Ronin offers a mere 4 hours despite it being pricier than the Crane.
What we like
Control panel has navigation keys for changing gimbal settings
Control camera settings such as aperture, ISO, shutter speed and exposure from the handle (Canons only)
Has a bright OLED display
Has Follow Focus function with compatible Canons such as the 5D Mark IV
What we don't like
Despite being crafted from lightweight and durable aluminum alloy, the Crane 2 is pretty heavy at 8.25 pounds. This means that you'll be supporting close to 10 pounds in one hand at any given time which might be very daunting. As such, a 2-handle version would be so welcome.
FLYCAM HD-3000 Handheld Steadycam Stabilizer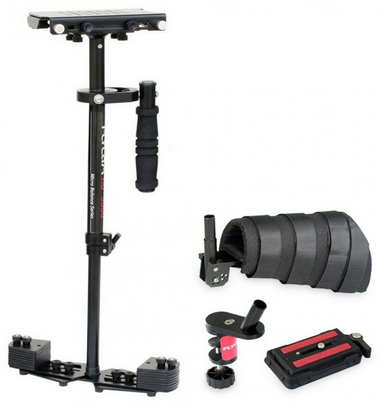 If your needs are not so demanding to necessitate the bells and whistles that the Crane 2 brings, then the Flycam HD-3000 might interest you. Unlike our first recommendation, the HD-3000 is fully mechanical in that it does not rely on motors or power.
Does this make it or break it?
The major pros here are that a mechanical Steadicam is durable and more resistant to breakdowns. Again, it's also relatively cheaper.
But do remember that there are no servos or brushless motors to help you in balancing. As such, the learning curve could be a little bit stiff (but not impossible) if you are just starting out.
Supports different cameras
The Flycam HD-3000 supports camera rigs weighing up to 7.7 pounds. To complement its high-weight capacity, this stabilizer comes with a dynamic camera platform with both 1/4″ and 3/8″ mounting slot holes.  This means that you can use it with about any HD, HDV DSLR or camcorder within its weight capacity.
Easy balancing
As I've just told you, mechanical stabilizers may not be so easy to work with especially for beginners. But compared to the Glidecam 1000, Flycam has gone an extra mile to make balancing somewhat easy with this model.
The mount plate, for instance, offers X and Y balancing options. Again, it also has an advanced base mount with up to 10 weight discs. Besides the removable weight plates, the base also has 2 knobs for horizontal balance that make micro-balancing possible.
That's not all.
This stabilizer's telescopic length adjusts tool-less from 40 cm to 60 cm.  This not only allows you to shoot from different angles, but it also adds to the ease of balancing.
Is it heavy?
Well, I wouldn't say that this stabilizer is any light at around 8 pounds. But unlike the Crane 2, this package comes with a heavily padded arm brace for easy use. Again, you could also attach it to this Flycam Body-pod for fatigue-free shooting or use the table clamp for hands-free use.
You might also find its foam cushioned handle grip much more comfortable to hold for prolonged periods.
What we like
Lots of balancing details make using easy
Telescopic arm allow versatile shooting options
It supports a wide array of cameras
You get free arm support brace, Unico QR plate, and a table clamp
What we don't like
Glide Gear Geranos VII Stabilizer Review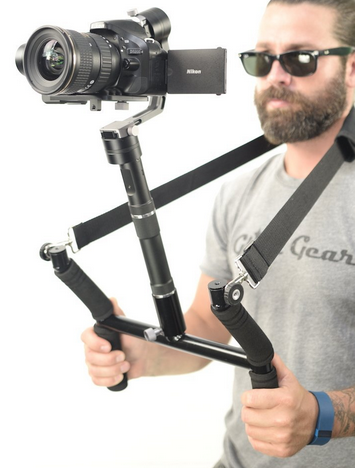 For those who find the Crane 2 a little bit pricier and way too heavy to endure throughout a video shooting session, Glide Gear brings you the Geranos VII.
While the Crane 2 beats it, hands down, regarding weight handling capacity, the Geranos VII wins out regarding price, ease of handling, and compatibility.
Compatibility
The Glide Gear Geranos VII Stabilizer is designed to support DSLR and Mirrorless cameras that don't exceed 2.8lbs. These include the Sony a7S II, a6300, a7R, and the Nikon D3200 and D800 to mention but a few.
It also supports compact cams like the Blackmagic Pocket Cinema Camera and could even accommodate an iPhone or Smartphone mounted on the Beastgrip.
Performance
This handheld DSLR gimbal uses three 32-bit micro-controllers and dual IMU sensors to control the three motors. Worth pointing out is that the motors have encoders that ensure consistent calibration memory. You can also make some fine adjustments using a mobile app that is available in Android and iOS versions.
On the handle, the Geranos VII has a 5-way analog joystick for camera and stabilizer controls. You could also control the camera wirelessly from your phone using the mobile app.
Ease of use
Compared to the Flycam HD-3000 above, we could say that the Geranos VII is notably user-friendly. This is a 3-axis motorized gimbal that renders itself nicely as a reliable tool for professionals and beginners alike.
Past videographers and phoneographers report that this stabilizer has a relatively smoother learning curve. They also confirm that the app connects easily and it's also easy to use.
We highly recommend that you add a Quick Grip plate on the mount. This not only saves you time but also eliminates the need for rebalancing when you mount the camera on the gimbal again.
Batteries and battery life
Importantly, this dslr Steadicam comes with 2 lithium-ion cells. When full, each battery offers you at least 3 hours of operation. The good news here is that you use one battery while the one recharges. When traveling to camps and picnics, having the 2 batteries full of charge could offer you up to 6 hours of fun.
Let's talk Handling
This is where the Geranos VII tends to beat the Crane 2. Besides the gimbal handle, the Glide VII also ships with a padded Horn Grip for fatigue-less shooting. Even better, you could also set the gimbal on a tripod for hands-free use. Here are our recommendations for the best dslr tripods.
What we like
Hardshell case for gimbal protection provided
Offers versatile compatibility (DSLRs, Mirrorless, compact cams, and Smartphones)
Easy to handle (use the handle, horn grip, or set it on a tripod)
2 rechargeable batteries offering up to 6 hours of operations
A 5-way joystick on handle controls the gimbal and camera
What we don't like
Might not support big lenses given its weight limit
MOZA Air 3-Axis DSLR Camera Stabilizer Review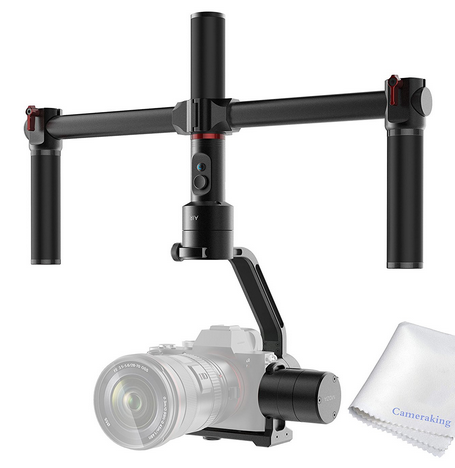 The Moza Air dslr gimbal is more like a revamped version of the Zhiyun Crane 2, at least in its ease of use. Industry benchmarks also prove that the Air is a capable rival of the rather bulky and heavy DJI Ronin that is way expensive for what it offers.
Compact and Lightweight
The Moza Air is the lightest dual-handle dslr camera stabilizer that we've come so far. At around 2.2lbs, this dslr Steadicam is almost 4 times lighter than the Crane 2 that weighs 8.25lbs. This means that holding it for a longer time won't work so badly on your back like the Crane 2.
It is also way compact especially when compared with the market leader the DJI Ronin. The best part is that it assembles and disassembles tool-free and within no time. To make carrying easy, this dslr gimbal ships in a pelican-style hard plastic case with dedicated compartments to prevent damaging the gimbal.
Great build and Excellent compatibility
The Moza Air has a great build to it thanks to the aerospace industry-grade aluminum used. This stabilizer supports a wide array of DSLRs from Sony, Panasonic, and Canon. It's also compatible with the Nikon D800, and a few models from Blackmagic Design and Fujifilm.
Despite its lightweight design, the Moza Air has a maximum payload of 5.5lbs which is, in my opinion, pretty impressive.
Performance
The Moza Air uses 3-automobile-grade motors with slip-ring technology that offer 360-degree unlimited rotations. Precisely put, this stabilizer makes ±360° on its yaw, tilt, and roll axis. This functionality will go a long way to allow you to be as creative as possible in your footages.
You have 4 follow modes, and the stabilizer can be used both upright and underslung. Control is through some nice buttons on the handle. You can also purchase this wireless thumb controller for dual operator mode.
This controller has a precision joystick and a few buttons that control the gimbal's movements as well as the camera's start/stop video recording function and focus. You could also download a free Smartphone app that offers all these functions.
Handling the stabilizer
You can hold the gimbal either from its handle or clip it on its 2-handle rig for those complicated shooting scenarios. Amazingly, Moza also includes a tripod in the package. This tripod will be of great use when making pan movements.
You can also use the gimbal on a table, desk, or down on the ground. A ¼''-20 screw hole underneath it also allows you to mount it to a crane, jib, or slider.
Powering
The Moza Air uses 3 Li-ion batteries that offer about 4 hours of operation. In my opinion, this isn't too bad considering that you won't be using the gimbal throughout the day. In fact, several past buyers report that they don't have to recharge the batteries in the middle of the day.
Even better, these batteries are not proprietary. This means that you can always add another set if you wish to.
What we like
It's compact and relatively lightweight
Has a decent payload
Nice button controls
Allows 360-degree unlimited rotations on all its 3 axis
Has incredible compatibility
Optional thumb controller and mobile app work great
What we don't like
The motors whine and wobble with heavy camera rigs
Conclusion
Adding a reliable stabilizer to your camera kit is a great and sure way of taking your videos and clips to the next level. It adds a more professional look to your footages through long tracking shots and improved pans and zooms.
But always remember that using the best camera stabilizer for dslr in your footages is one thing. But telling a great story like Casey Neistat does is what wins your audience's loyalty.