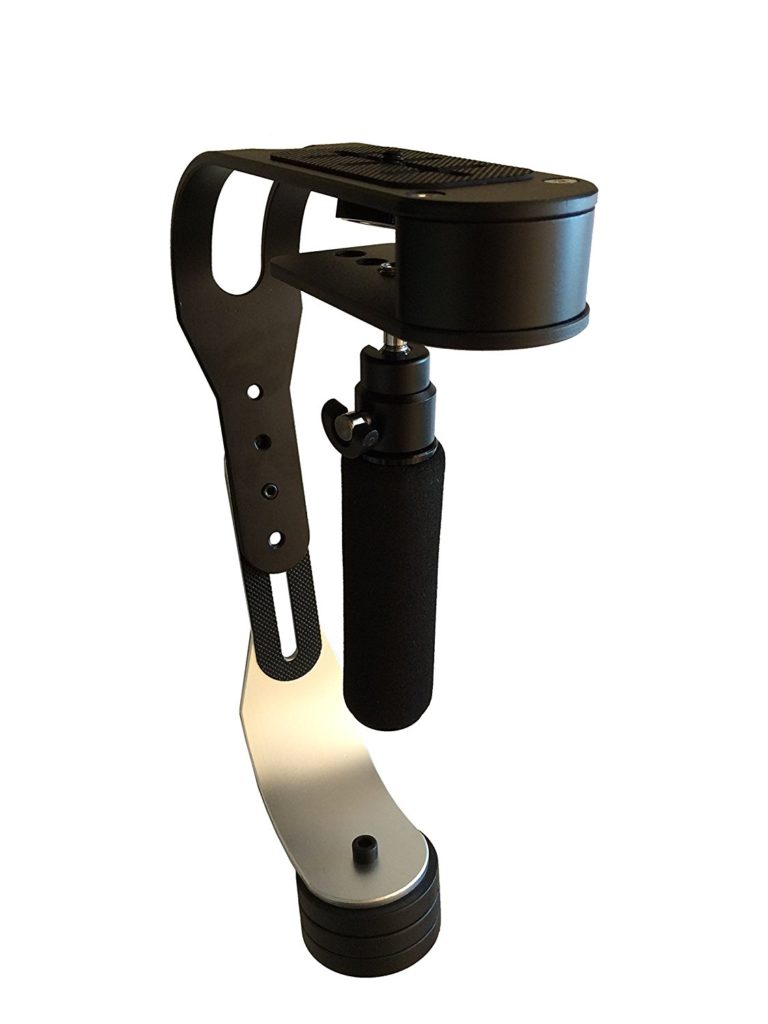 The Roxant pro DSLR steadycam is a hand-held stabilizer for DSLR camera systems. Just like any other hand-held DSLR stabilizer system, the Roxant is capable of supporting a professional SLR camera or a HDSLR camera depending on your needs. Hand-held DSLR steadycam stabilization systems are designed for the purpose of mainly shooting videos and some occasional time-lapses as well.
Let's dive right in and find out more about this wonderful stabilization tool.
Pros
Accepts camera systems up to a total weight of 2.1 lb
Relatively easy to set-up
Low center of balance of the gimbals
Comfortable hand grip
Very sturdy construction
Inexpensive
Cons
The system cannot support heavier cameras and lenses.
Slight bit of wobble in the final footages. Please note this is not a motorized gimbal and that means it is not going to get you 100% stabilized footages.
Why do you need one?
Traditional DSLRs are great for shooting videos. With a 35mm sensor you can shoot great 4K videos. Even crop system cameras like the D500 and the D7500 are also capable of shooting 4K videos. Increasingly, more and more indie videographers are opting for a DSLR instead of a professional camera to shoot videos. This is because of the wide variety of lenses and the high quality video capabilities.
The fact that they are light means you can use them to shoot from a tripod as well as carry it around to shoot pan or follow a moving subject. The only problem is finding a cheap yet effective stabilization system.
Steadycam designs are to DSLR systems what body-worn stabilization rigs are to professional cine cameras. They do the exact same thing but at a lot less budget and less set-up complexity. Steadycam systems like the Roxant Pro steadycam DSLR stabilizer works to stabilize a camera system.
A hand-held steadycam stabilizer is used to steady the movement of the DSLR and produce a smoother flowing video. They are lightweight, and needless to say, support a smaller camera system. The advantages are enormous. A stabilized DSLR footage appears as if the camera is gliding on air. If balanced and used properly, a steadycam creates the impression of a camera floating in air.
Advantages of the Roxant Pro DSLR steadycam stabilizer
One of the major factors that segregates a good steadycam stabilizer and a bad one is how low the center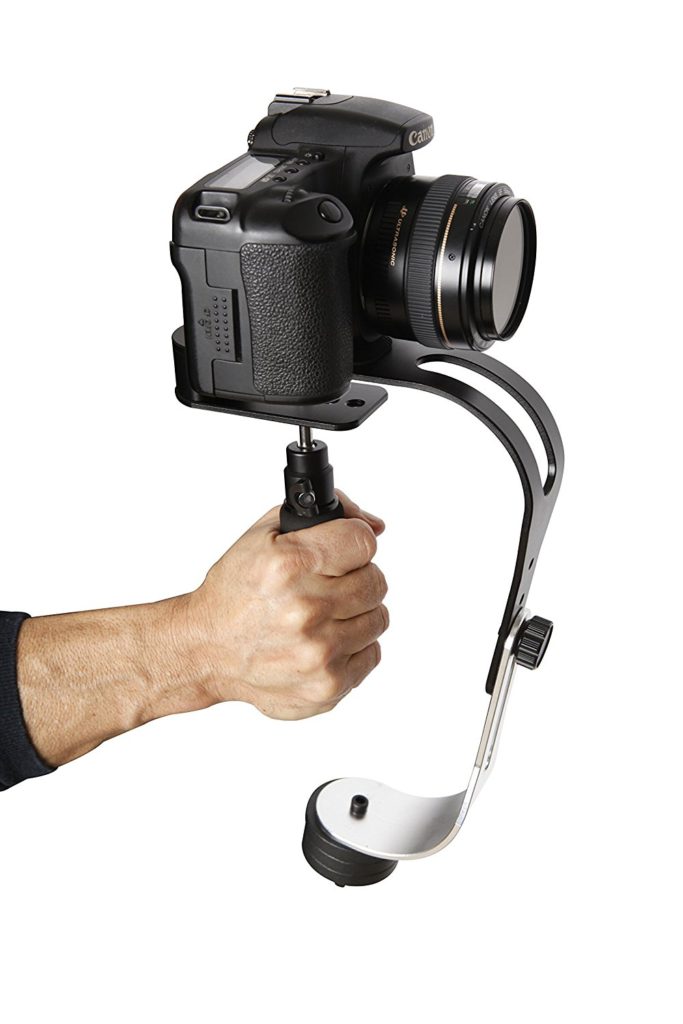 of balance of the gimbal is. A low center of balance for the gimbal ensure that the camera is balanced properly. Proper balancing ensures better stabilization of the camera and a better shooting experience.
Another advantage of the Roxant is the no-slip grip on the lower arm of the camera. This avoids any untoward arm swings. This is important when shooting videos as well as time-lapse stills because it ensures that the footages are steadier.
One system that is perfect for a wide range of cameras
The Roxant Pro DSLR steadycam stabilizer is perfect for a wide range of cameras. It has adjustable weights which means you can mount as much weight as necessary depending on the weight of the camera. That means from a lighter system like a GoPro to a heavier system such as the EOS 7D Mark II, you can mount pretty much any camera which weighs within 2.1 lb.

Balancing the Roxant Pro DSLR steadycam stabilizer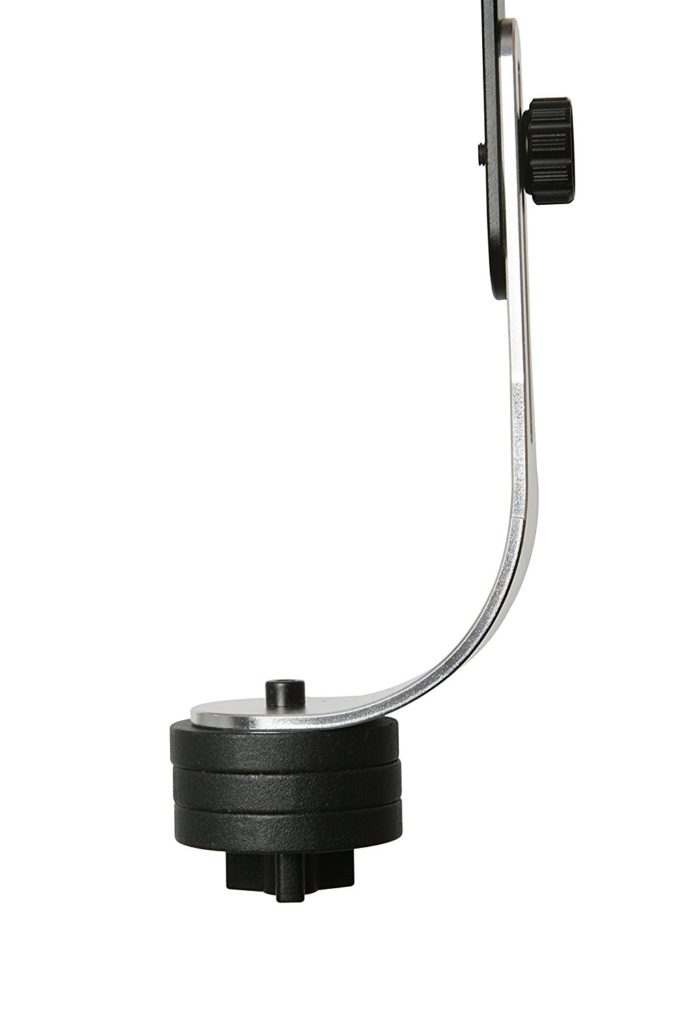 All steadycam systems come with some sort of setting and balancing requirement. To be fair with the Roxant, the setting up of this system isn't that complicated. You may have to spend about ten minutes trying to figure out the right balancing aspect of the camera. There are 3 counter-weights on the system. Plus, the bottom piece is extendable. All these allow you to get a very fine balancing of the camera.
The handle grip is very comfortable to wield. Regardless of the weight bearing capacity of the steadycam stabilizer, it is pertinent that the handle grip is sturdy and comfortable to hold. Please note the entire weight of camera system plus the steadycam rests on your wrist and forearm. Thus, it is pertinent that you have a comfortable grip to enable you to work for an extended period of time.
Before you start balancing the system with your camera on, ensure that your camera does not have any accessory or items attached that you don't need. Anything that can add extra weight should go. So, lens hood, lens cap, camera strap or battery grip are things that should be taken off. Take care that when you attach the camera to the Roxant pro stabilizer the lens is in line with the c-arm (or just the arm) of the Roxant.
Next, the lower part of the arm attaches to the upper part via a knob. Again ensure that the two parts of the arm are secure and there is absolutely no wobble. Screw in the knob tightly.
There is a traditional tripod mount. That means you should find it easy to mount most camera systems. At the bottom of the mounting plate there are five different options where you can mount the handle. This is for balancing and a more convenient grip.
To balance the camera perfectly, start with the middle hole. The metal adapter may come fixed at the farthest hole by default and you may have to unscrew it and then screw it back in to the middle hole. Use a quarter or a penny (depending on where you are) to unscrew the metal adapter. I used a simple screwdriver that matches the groove. But before you unscrew the metal adapter (which can be a pain), try to move the handle around the other four holes and find out where the camera balances the best. If the lens is heavier you may have to choose the hole farthest. That will counter balance the lens and stop the whole system from leaning over.
The mounting plate at the top is suitable for mounting a number of different camera systems. The Roxant Pro DSLR steadycam stabilizer comes with a number of screws for mounting Nikon and Canon system cameras. For mounting lighter systems like a GoPro or even an iPhone 6 or iPhone 7 (at the latest iPhone 8), you need to purchase specific mounting screws.
Disadvantages
The major disadvantage of the system is that it won't support heavier camera / lens systems. If you prefer to use something like a Canon EOS 5DS R with a 24-70mm lens, you will struggle to balance it. The other major issue of the system is that you don't have a support system for your arm.
Another issue is that balancing will take a while depending on the camera type and how good you are with balancing things. Some users have complained that it has taken them more than an hour to balance. So much so that they have actually ended up returning the device. For others balancing was only half an hour's job.
Does the Roxant Pro Video Camera Stabilization system make buying sense?
Every buying decision is accompanied by the price factor. This is what people factor in when making the final buying decision. In that sense the Roxant pro DSLR stabilizer steadycam is a great buy. Overall construction quality is great. Plus, the ease of use is also a factor to be weighed in. It takes very little time for anybody with absolutely no prior training to get started.
Having said that, balancing can be a tricky thing. It may take you a while depending on how adept you are. But beyond the budget and the learning curve, the Roxant Pro DSLR steadycam stabilizer is a very useful tool. Many times when on a vacation our videos turn out to be nowhere near our expectations. This is because there is no image stabilization in the world that can stabilize hand-movement induced by a moving photographer. Yes, there are software which can do that, but the results turn out to be weird.
A device that does this in-camera and with little or no software involved ensures that the quality of the clips are excellent and a wider frame is achievable because of no cropping. The Roxant Pro DSLR steadycam stabilizer fits that requirement perfectly.
Imagine, how your vacation clips would appear if there were absolutely no shake. It would feel that the camera is floating in air. Even indie videographers would find this system to their advantage. It would add to their product value creating better quality stabilized videos. All in all a very expensive tool for those who are looking to get started into hand-held stabilized video work before you move on to motorized gimbals.